Following ZeroAvia's recently announced goal to deploy hydrogen-powered, zero emissions planes by 2022, H2 View spoke to Val Miftakhov, Founder and CEO of ZeroAvia to find out more about the start-up, its goals, and the suitability of hydrogen as an alternative fuel for the aviation industry.
It was announced last week that the California-based company had made significant advancements in developing its zero emission, hydrogen-fuelled powertrain. Founded in November 2017 by Val Miftakhov, a passionate airplane and helicopter pilot, the company hopes to have a real impact in decarbonising the aviation market.
ZeroAvia to deploy hydrogen planes by 2022
ZeroAvia currently has the largest zero emission aircraft in the world flying today which uses no fossil fuels. Following this achievement, the company made it its mission to accelerate the world's transition to suitable aviation by providing a zero emission option to both aircraft customers and airframe manufacturers.
"We would love to get everyone excited about building the ecosystem around this new fuel type – from renewable electricity generation to hydrogen production, and to other uses of hydrogen at airports."
The company received an Experimental R&D Certificate from the US Federal Aviation Administration and has completed several flight tests of its Piper M-Class R&D platform, including a Maximum Speed and Formation Flight, a Maximum Range Flight, a Maximum Range Flight and a Full Pattern Flight.
ZeroAvia is currently working with existing aircraft manufacturers and operators, offering a clean, lower-cost powertrain choice to fit in the existing aviation market. The company is targeting 500-mile short-haul trips which currently make up nearly half of worldwide departures.
The increased usage of alternative fuels such as hydrogen in the automobile sector has led to rapid decarbonisation in land transportation, however, the aviation sector still stands as a massive emission source.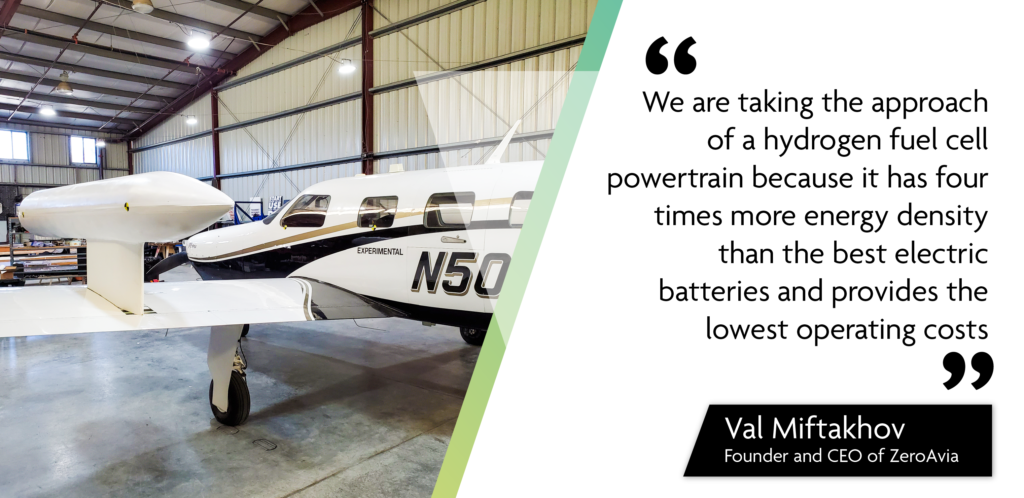 Talking to H2 View, Miftakhov commented, "We want to have a real impact on the sustainability of aviation. For that, we needed to target a significant existing segment. This means relatively larger aircrafts for relatively long distances."
"We are taking the approach of a hydrogen fuel cell powertrain because it has four times more energy density than the best electric batteries and provides the lowest operating costs."
"Liquid hydrogen, which we are considering for the future, has a further two to three times increase in energy density, getting close to jet fuel itself."
Although the company is currently focusing on short-haul trips, it strongly believes that hydrogen is also a suitable fuel for long haul flights once the utilisation of liquid hydrogen has been mastered.
Hydrogen technologies are now demonstrating that they are an integral part of the energy transition and have great potential however, the cost needs to be suitable in order for the technology to be widely deployed.
The aviation sector is already a costly market, so the cost of its hydrogen powertrain was an important factor for ZeroAvia when developing it's hydrogen powertrain.
"We think the upfront cost of manufacturing will be similar, however, the fuel and operational costs will be lower. This is because hydrogen costs less than liquid fuel and the fuel cell plus the motor is more efficient than a comparable jet turbine, and there will be a longer span between maintenance events."
Looking to the near future, ZeroAvia hopes that it will see deployment of hydrogen fuelled airplanes featuring its powertrain in California, likely between Los Angeles and San Francisco, the UK, and Norway. The company is currently in discussions with operators across all of these markets. Longer term, the company hopes to see the hydrogen powertrain deployed globally.
"In five years time, we will have our powertrain in many 10-20 seat aircrafts across multiple models. I believe the H2 View audience can be very helpful in helping us all connect the dots on potential opportunities and accelerate the adoption of these technologies in aviation," Miftakhov concluded.