Air Liquide has launched its first green bond issue, raising €500m ($609m), that will be dedicated to financing and refinancing the development of several sustainable projects such as hydrogen.
The new bond issue will notably contribute to the financing of the ambitious sustainable projects that the group has announced this year- including hydrogen.
The transaction was executed under the group's Euro Medium Term Note (EMTN programme and, with this assurance, is raising €500m ($609m) with a 10-year maturity at a yield of 0.461%.
Read more: GWEUROPE21: Air Liquide on accelerating the green hydrogen pipeline
Read more: Hexagon Purus to supply Air Liquide with hydrogen cylinders
Proceeds from this issuance will allow Air Liquide to refinance its September 2021 bond maturities in advance and will secure sustainable financing to support the group's long-term growth under very competitive conditions.
Fabienne Lecorvaisier, Executive Vice-President of Finance and Operations at Air Liquide, said, "The success of this inaugural green bond issuance illustrates the investors' confidence in Air Liquide's ability to implement projects that will contribute to building a sustainable future.
"It is in line with the ambitious sustainable projects we announced in March, particularly in terms of reducing CO2 emissions, and will allow us to materialise them.
"With the ambition to become a regular issuer of sustainable bonds, Air Liquide is more than ever committed to putting economic and financial performance and ESG at the heart of its growth strategy."
12 Days of Content: Air Liquide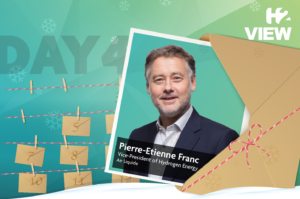 Over the past 10 years, Air Liquide has invested more than €500m in hydrogen energy. The French industrial gas giant is never far from the headlines when it comes to hydrogen, making several announcements in 2020 as part of its commitment to the clean energy.
From production and storage, to supply chain and into applications, Air Liquide has a ubiquitous presence in the global hydrogen economy, contributing to the widespread use of hydrogen as a clean energy source, for mobility in particular. The company has designed and installed more than 120 hydrogen stations around the world to date.
Here's Pierre-Etienne Franc, Vice-President of Hydrogen Energy at Air Liquide, to tell us more about the exciting things that Air Liquide has been involved in this year, in the latest instalment of H2 View's A Christmas Twist: The 12 Days of Content.
Want to continue reading? Click here.