The All-Party Parliamentary Group (APPG) on Hydrogen has today (July 6) released a report urging the UK Government to set ambitious hydrogen targets in forthcoming strategies to reach net zero by 2050.
The report, 'Hydrogen in powering industry' sets out 10 key recommendations that the group believe can accelerate the growth of the UK's hydrogen sector and enable a sustainable energy transition.
Firstly, the APPG suggest that the government must continue to expand beyond its existing commitments of 5GW production in the forthcoming Hydrogen Strategy.
Additionally, any forthcoming government and devolved policies must be complementary of the wider UK low-carbon commitments.
Industrial clusters should also be prioritised for the usage of hydrogen with the group believing that the clusters will be a key catalyst for driving forward the UK's decarbonisation of industry.
Read more: The role of hydrogen in powering UK industry: APPG on Hydrogen launches inquiry
Read more: UK Government must move quickly on hydrogen or risk being left behind, says APPG on Hydrogen
APPG also suggest that the government must commit to incentivising hydrogen production within the UK as opposed to relying on importation to support the growth of the domestic industry.
Nuclear technology should also be aligned with hydrogen production pathways to enhance the production of pink hydrogen.
Another key recommendation that should be considered is the development of a UK wide hydrogen network to support the transport sector, including a large-scale implementation of hydrogen refuelling stations.
Regulators most also act quickly to update the energy regulations and guidance to ensure that it fully supports hydrogen's role in powering industry.
Crucially, the APPG suggest that, for hydrogen to expand in the UK, a technology neutral approach must be adopted for all types of energy systems in addition to significant and long-term financial support being required for development, deployment, and operation of hydrogen technologies.
Finally, Ofgem must also ensure the hydrogen market is subject to effective competition to drive down prices for consumers.
Jacob Young MP, Chair of the APPG on Hydrogen, said, "The UK has led the way in tackling climate change, becoming the first major economy to commit to net zero by 2050. It can continue to do this by powering UK industry with hydrogen technology whilst exporting its successes on an international scale.
"With COP26 later this year, and the Hydrogen Strategy, Heat and Buildings Strategy and Net-Zero Strategy expected to be published shortly, there has never been more exciting opportunities for the Government to expand beyond its existing commitments for 5GW Hydrogen production.
"This will help to level up the UK and support the creation of green jobs whilst delivering for our economy and long-term environmental aims."
You can read the full report here.
Exclusive: Worcester Bosch wants only hydrogen-ready boilers on the market by 2025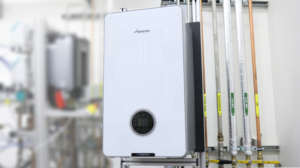 Boiler manufacturer Worcester Bosch has been investigating how the existing gas grid could use a low carbon gas to power boilers and central heating systems since 2017. And the UK company believes hydrogen is the answer.
In February 2020, Worcester Bosch unveiled its "hydrogen-ready" boiler that can run on natural gas but is capable of converting to 100% hydrogen following a one-hour visit by an engineer.
Read the interview in full here.