Ballard Power Systems and W. L. Gore and Associates have signed a new multi-year fuel cell supply agreement announced today (June 9).
The signing honoured the two companies' prior collaborations and supply partnerships while also commemorating its new commitment to advance the benefits and applications of fuel cell technologies.
Both companies are said to be excited about advancing this technology for applications around the globe.
Ballard has chosen to collaborate with Gore due to the company's history of innovation and multi-decade expertise in membrane technology (PEM).
Read more: Ballard-powered FCEVs driven more than 75 million kilometres
Read more: Gore fuel cell technology receives prestigious Toyota award after Mirai success
Gore produced the first commercially adopted membrane for passenger vehicles and, since 1994, has been advancing the performance of PEM for other applications.
As well as this, the advanced technology of the GORE-SELECT membrane enables more compact, durable and higher output fuel cells that are proven to extend the life of the system.
Together the two companies offer the market more than 50 years of combined know-how, as well as mutual passion for pioneering next-level technologies.
Eneze Chen, Strategic Marketer at Gore Global Automotive, said, "Ballard and Gore share a mutual commitment: to hear and understand our customers' needs, to deliver innovative solutions to those needs, and to provide the exceptional quality, value and global support our customers expect.
"It is easy for us to collaborate on advancing fuel cell technologies, because our companies are aligned in a common purpose."
Jason Birdsall, Director of Supply Chain Management at Ballard, said, "Ballard and Gore are committed to joint technological developments that will offer the market next-generation motive and stationary fuel cell systems.
"We look forward to collaborating even more closely to support the requirements and empower growth of the fuel cell industry — not only within Asia, but globally."
Europe a 'strategic' market for Ballard Power Systems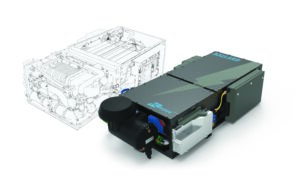 Hot on the heels of construction to build a centre of excellence dedicated to fuel cell marine applications in Hobro, Denmark, Ballard Power Systems Europe is expanding again. Work is currently underway at the same site to extend Ballard's existing facilities by around 470m2, and the new extension has been described as an "important step in the company's focus on the European market" – a market which has resulted in significant growth and the creation of more jobs in recent years.
"Europe is a strategic market for Ballard," Nina Caroline Hjorth, Director of Strategy & Market Development at Ballard Power Systems Europe, said. "It has strong drivers to support the development of our technology. And Europe is shifting away from fossil fuel-powered vehicles in general towards zero-emission transportation. That's why it's an obvious place to be focusing for company like us."
Want to continue reading? Click here.