Ballard Power Systems announced today (July 15) it will be supplying two of its 200kW hydrogen fuel cell modules to Siemens Mobility to power a two car Mireo Plus H passenger train.
Ballard plans to deliver the modules to Siemens by 2022 in time for the hydrogen fuel cell-powered passenger train trial operation in Bavaria, Germany.
This is being supported by the Bavarian State Ministers for Economic Affairs and Transport who wish to see the hydrogen-powered train in Bavaria to decarbonise the rail systems.
Read more: Ballard-powered FCEVs driven more than 75 million kilometres
Read more: Ballard to provide fuel cell modules for 15 Indian hydrogen buses
The train will be tested on the Augsburg to Füssen route, among others, in 2023.
Pilot operation in the rail network of Bayerische Regiobahn (BRB) is initially planned for 30-months, with the train stationed in Augsburg during the trial.
The Mireo Plus H platform is a modular commuter train designed to operate on non-electrified rail lines at speeds of up to 100 mph and a range of over 800km.
Ballard fuel cell modules will be mounted on the roof of the train and work in conjunction with batteries that will be installed beneath the floor.
With a lightweight design, energy-efficient components and intelligent onboard network management, the train consumes up to 25% less energy than other contemporary trains with similar passenger capacity.
The Mireo Plus H will be presented to the public in the spring of 2022, with test runs in Bavaria planned for 2023 before it officially enters passenger service in 2024.
Rob Campbell, Chief Commercial Officer of Ballard Power Systems, said, "The trial operation in Bavaria is an exciting development in our ongoing work with Siemens for its Mireo Plus H passenger train.
"Development and testing of our 200kW module for the train has been successfully completed and operation in Bavaria is an important step toward commercialisation of the train.
"Both passenger and freight trains, with their heavy payloads and requirements for long range and rapid refuelling, represent important opportunities for which fuel cells are an ideal zero-emission solution."
Europe a 'strategic' market for Ballard Power Systems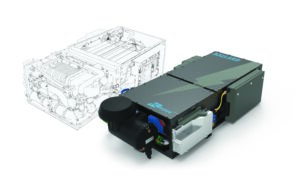 Hot on the heels of construction to build a centre of excellence dedicated to fuel cell marine applications in Hobro, Denmark, Ballard Power Systems Europe is expanding again. Work is currently underway at the same site to extend Ballard's existing facilities by around 470m2, and the new extension has been described as an "important step in the company's focus on the European market" – a market which has resulted in significant growth and the creation of more jobs in recent years.
"Europe is a strategic market for Ballard," Nina Caroline Hjorth, Director of Strategy & Market Development at Ballard Power Systems Europe, said. "It has strong drivers to support the development of our technology. And Europe is shifting away from fossil fuel-powered vehicles in general towards zero-emission transportation. That's why it's an obvious place to be focusing for company like us."
Want to continue reading? Click here.