BayoTech will supply hydrogen to more than 1,500 hydrogen-powered electric vehicle (EV) and hydrogen refuelling stations set to be developed by GreenCore by the end of 2026.
GreenCore on Tuesday (June 8) unveiled its ambitious station development plans when it formalised a new partnership with Loop Energy to design and build the infrastructure.
Read more: Loop Energy, GreenCore aiming for 1,500 EV and hydrogen refuelling stations by 2026
Each facility will dispense hydrogen directly to fuel both light- and heavy-duty fuel cell vehicles. The hydrogen fuel will be exclusively by BayoTech through its gas as a service program BayoGaaS.
BayoGaaS produces hydrogen at or close to the point of use, eliminating or reducing unnecessary transportation and storage and resulting in a significantly lower cost and lower carbon footprint than traditional centralised hydrogen production.
Welcoming its partnership with BayoTech, Frank Baumann, CEO of GreenCore, said, "This exciting partnership allows GreenCore and BayoTech to present a solution to these issues today, eliminating tailpipe emissions and making electric car charging more accessible."
The charging stations will use hydrogen fuel cells to generate electricity to charge users' battery-powered vehicles, unlocking savings and creating convenience for drivers by reducing reliance on the grid and competition for energy at peak demand times.
Stewart Stewart, Chief Commercial Officer at BayoTech, added, "We are very excited to be working with GreenCore. As the next generation of EV charging infrastructure is deployed, the ability to provide scalable, sustainable and cost competitive solutions is critical.
"GreenCore has a proven track record of success and will be a great partner in the continued hydrogen revolution."
An exclusive interview with BayoTech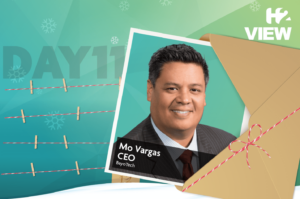 2020 was certainly been a crazy one for on-site hydrogen generation specialist BayoTech. Filled with new partnerships, developments and ventures into new markets, the company has achieved a considerable amount, all whilst fighting the effects of Covid-19.
As part of the next instalment of H2 View's A Christmas Twist: The 12 Days of Content, Mo Vargas, President and CEO of BayoTech talks about some of those ground-breaking partnerships, how the company has dealt with Covid-19 and future plans. 
Read the full interview here.