The joint venture created by Volvo and Daimler Truck, cellcentric, has started conceptualising a plan for large-scale series production of fuel cells.
Revealed today (29th April), the project could see cellcentric become a leading global manufacturer of fuel cell systems with one of Europe's largest planned series of fuel cell production set to commence in 2025.
More details on this proposed production plan, including a location, is set to be released throughout 2022.
Read more: Daimler Truck and the Volvo Group finalise fuel cell joint venture 
cellcentric will develop, produce and commercialise fuel cell systems for both long-haul trucking in addition to other applications with the joint venture drawing on decades of expertise and development work from both Volvo and Daimler.
As part of the groundwork for this large-scale production plan, preparations for pre-series production are currently taking place at a new site in Esslingen near Stuttgart, Germany.
In parallel to this, cellcentric is scaling up on-going prototype output.
Daimler Truck AG's and Volvo Group's goal is to start with customer tests of fuel-cell trucks in about three years and to be in series production of fuel-cell trucks during the second half of this decade.
Read more: Daimler and Volvo move forward with plans for hydrogen trucks
All vehicle related activities will be carried out independently from each other, as both companies remain competitors in all vehicle and product ranges, and particularly in fuel cell integration solutions for all products.
Martin Daum, Chairman of the Board of Management at Daimler Truck AG, said, "Hydrogen-powered fuel cell electric trucks will be key for enabling CO2-neutral transportation in the future.
"In combination with pure battery-electric drives, it enables us to offer our customers the best genuinely locally CO2-neutral vehicle options, depending on the application.
"Regarding the necessary hydrogen infrastructure, it is clear that green hydrogen is the only sensible way forward in the long term."
Martin Lundstedt, CEO of Volvo Group, said, "We are convinced that hydrogen fuel-cell technology plays an essential role in helping us reach that milestone. But we know there is so much more to achieve than just the electrification of machines and vehicles.
"Partnerships like cellcentric are vital to our commitment to decarbonising road transport."
cellcentric: Hydrogen fuel cell applications can make this a better world without emissions
Want to learn more about cellcentric and it's aim in decarbonising transport? Check out this exclusive.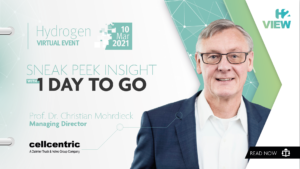 This time tomorrow H2 View's Hydrogen Virtual Event will be underway – and it features heavyweight names and even bigger topics.
Realising Hydrogen's Future Role – at Speed and Scale brings together a star-studded line-up of speakers and specialists in the field, including Professor Dr. Christian Mohrdieck, Managing Director of cellcentric.
cellcentric is the new joint venture between Daimler Truck and Volvo Group that will develop, produce and sell fuel cell systems for heavy-duty vehicles, which Mohrdieck tells us more about in this exclusive interview.
Want to continue reading? Click here.