Clean energy from the East of England alone could power the equivalent of 20m UK homes by 2035, according to new forecasts on energy production from Generate.
Working with the East of England Energy Group (EEEGR) and key energy stakeholders, Generate has identified 24GW of clean energy flows into the national grid from the region within 13 years.
By 2035 the region is set to produce 15.6GW through offshore wind, 3.4GW through solar and 4.4GW through nuclear, and is set to see huge advances in green hydrogen and battery storage.
Currently, the region has more than 1,000 offshore wind turbines, 139 gas installations and is home to 18% of the UK's nuclear generating capacity.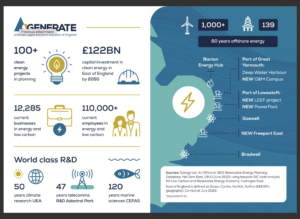 Ian Pease, Business Development Manager, Generate, said: "The East of England is shaping up to be an integral contributor to the Government's priority of stabilising the cost of energy to UK consumers, whilst securing energy supplies as we shift away from a reliance on expensive fossil-fuels and transition to more affordable sources of clean and renewable energy generation."
Martin Dronfield, Executive Chairman of EEEGR, and a Director of Opergy Limited said its research demonstrates the scope and scale of the East of England's clean energy capabilities and will shine a light on its energy credentials, supply chain and R&D capabilities.
In the last year alone, it has seen a score of new wind farms granted planning consent, including Vattenfall's Vanguard and Boreas projects and ScottishPower Renewables' East Anglia ONE North and East Anglia TWO.
In total, 54% of the UK's consented offshore wind is off the coast of the East of England. The region is also home to EDF's Sizewell B power station and the site of the newly consented Sizewell C project, which together will generate enough energy to power 8.3mhomes.  Additionally, further up the coast, the Bacton gas terminal continues to supply 30% of the UK's gas.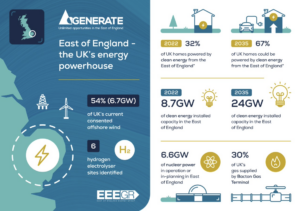 Clean energy is accelerating in other UK regions too, notably Teesside, North West and Scotland.
Read more:  Project management contract awarded for Vertex HyNet project
Read more:  EDF Renewables unveils key new green hydrogen production project in Teesside
Read more:  Scottish Government funding to secure hydrogen supply in Orkney