Cummins is set to begin testing of a new hydrogen-fuelled internal combustion engine today (July 13) that will support customers in meeting the energy and environmental needs of the future.
Following the proof-of-concept testing, the company plans to evaluate the engine in a variety of on and off highway applications, supporting the Cummins' efforts to accelerate the decarbonisation of commercial vehicles.
Cummins states that the hydrogen engines can use green hydrogen fuel, produced by Cummins-manufactured electrolysers, emitting near zero carbon emissions through the tailpipe and near zero levels of NOx.
Read more: Cummins powering a new 'flying' hydrogen vessel
Read more: A powerful combination: Solutions, scale and resource to drive hydrogen forward
The projected investment in renewable hydrogen production globally will provide a growing opportunity for the deployment of hydrogen-powered fleets utilising either Cummins fuel cells or engine power.
This is part of an investment across a range of technologies to support hydrogen-based transportation including hydrogen engines, fuel cells, electrolysers and storage tanks.
The high energy density of hydrogen enables easily integrated on-board gas storage without compromising either vehicle payload or operating range.
The joint venture with hydrogen storage specialist NPROXX adds the ability to integrate the fuel cell or hydrogen engine with the high-pressure gas cylinder tanks and supply lines on the vehicle.
Srikanth Padmanabhan, President of the Engine Segment at Cummins, said, "Cummins is thrilled about the potential of the hydrogen engine to reduce emissions and provide power and performance for customers.
"We are using all new engine platforms equipped with the latest technologies to improve power density, reduce friction and improve thermal efficiency, allowing us to avoid the typical performance limitations and efficiency compromises associated with converting diesel or natural gas engines over to hydrogen fuel.
"We have made significant technological advancements and will continue moving forward. We are optimistic about bringing this solution to market."
Cummins: Paving the way to a hydrogen economy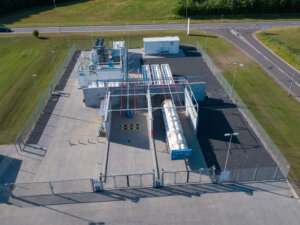 Now more than ever, people are looking for ways to leverage renewable energy for a flexible, low-carbon power supply. Hydrogen offers a solution. Using renewable sources such as sun, wind, or hydro energy through electrolysis to produce hydrogen emits no greenhouse gasses.
This is commonly referred to as green hydrogen. Energy from renewables can be converted into hydrogen using an electrolyser and utilised in several ways – from hydrogen fuel cell trucks, buses and trains, to ships powered by liquid ammonia made from hydrogen, to a substitute for natural gas for heating homes.
For several years, Cummins has been focusing on solutions that use materials and technologies that have less impact on the planet to deliver value and prosperity for our customers and communities.
Want to continue reading? Click here.