A flagship project that aims to convert wind power to green hydrogen in Germany has received €100m ($116m) in funding from the German Federal Ministry of Education and Research (BMBF).
The H2Mare project aims to establish a new turbine that integrates an electrolyser into an offshore wind turbine optimally for direct conversion of the electricity into green hydrogen.
Read more: Germany and Chile to establish a Hydrogen Taskforce
Read more: German city to feature urban green hydrogen production
This project will involve the consideration of the entire value creation chain from the wind energy generation and hydrogen production to the conversion of hydrogen into methane, liquid hydrocarbons, methanol or ammonia right up to its use in industry and the energy sector.
The goal is to create a significant cost advantage in the production of large volumes of hydrogen which can then be used to decarbonise various sectors of industry.
Within four years, H2Mare, comprising four joint projects with a total of 35 partners, aims to lay the foundations for technology leadership and support the achievement of climate targets by reducing greenhouse gas emissions more rapidly.
Siemens Energy is responsible for the coordination of H2Mare and is supported by institutes of the Fraunhofer Gesellschaft.
Christian Bruch, CEO of Siemens Energy AG, said, "Together with our partners, we want to establish the production of green hydrogen offshore with H2Mare.
"We are bringing in our offshore wind and electrification capabilities as well as our expertise in electrolysis. H2Mare unites the strengths of research and industry – for sustainable decarbonisation of the economy and to the benefit of the environment.
"We need the support of politics to drive forward innovative solutions for a green hydrogen economy."
Everything we know about the $1.5bn Clean Hydrogen Coastline project in Germany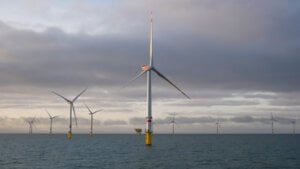 Dr. Geert Tjarks strongly believes that the Clean Hydrogen Coastline project in Northwest Germany can turn Europe into a significant player in the global hydrogen market. "With an intended goal of 400MW from electrolysis, Clean Hydrogen Coastline can significantly support a European value chain for hydrogen technologies," Tjarks, Stakeholder Manager of Hydrogen at EWE Gasspeicher, enthused.
Clean Hydrogen Coastline was unveiled in March by EWE and sees several of North Germany's largest industrial companies aligned in a $1.5bn project which aims to integrate hydrogen into the northwest German coastline.
Want to continue reading? Click here.