Eleven European gas infrastructure companies from nine EU member states have today unveiled a plan for a dedicated hydrogen transport infrastructure.
Enagás, Energinet, Fluxys Belgium, Gasunie, GRTgaz, NET4GAS, OGE, ONTRAS, Teréga, Snam and Swedegas have revealed new research that shows existing gas infrastructure can be modified to transport hydrogen at an affordable cost.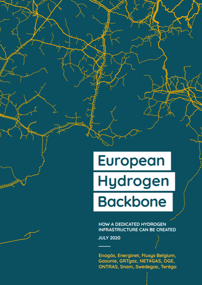 In a report entitled European Hydrogen Backbone, the companies said they foresee a network gradually emerging from the mid-2020s onwards to an initial 6,800km pipeline network by 2030, connecting 'hydrogen valleys'.
By 2040, a hydrogen network of 23,000km is expected, 75% of which will consist of converted natural gas pipelines, connected by new pipeline stretches (25%).
... to continue reading you must be subscribed