British sailor Phil Sharp is ditching "dirty" diesel in favour of clean energy as he reveals an ambitious four-year programme of ocean racing powered by hydrogen.
Shocked at how pollutant the marine industry is, with just 15 of the world's biggest ships releasing as much sulphur dioxide as all the world's cars put together, Sharp, 38, decided to use his sailing campaign to demonstrate how commercial maritime transportation can shift to clean systems with zero carbon emissions.
After winning two championships and setting world records in the Class 40, Sharp wants to join the IMOCA Globe Series, a four-year championship that includes two round-the-world races, with a 60ft boat powered by hydrogen fuel cell technology.
The technology will be used to power the electric propulsion and navigation systems on his Class 40 monohull yacht OceansLab, which will then be tested and evolved for application in a larger 60ft IMOCA class monohull that Sharp plans to build next year.
"Green hydrogen and fuel cells are highly scalable and critical technologies that we need to embrace in order to decarbonise marine, either on a small sail or motor yacht, or for a large-scale container ship," Sharp tells H2 View in an exclusive interview.
"That's why prototype projects like OceansLab are extremely important in order to achieve hydrogen technology for offshore application and provide the industry knowledge and confidence in order that it can amplify development and uptake."
The power generation system on OceansLab features a 10 kilowatt hydrogen fuel cell that produces electricity through the positive reaction of hydrogen with oxygen in the air, with water vapour as the only by-product.
Sharp will be testing a prototype system offshore in the 3,000-nautical mile solo Transat race from Brest in France to Charleston in South Carolina in the US, which starts next May.
In that race, OceansLab will be using the fuel cell and solar panels for charging the onboard lithium battery bank, which power the onboard navigation and communication systems.
The fuel cell would also be used to power the electric propulsion system outside of the racing, for manoeuvring in and out of port.
He will carry hydrogen in canisters and the boat will be fitted with sensors and an automatic shutdown system in case of hydrogen leaks.
"During the races we are not allowed to use the propulsion system, but there is a high auxiliary demand with the navigation systems, satellite communications, autopilot, and media systems," Sharp explains.
"The fuel cell is then used to charge the batteries during the races, in addition to energy captured by high-efficiency SunPower cells that we have integrated into the deck structure."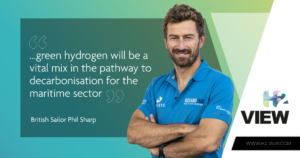 Keen to find a low weight, zero carbon solution to replace the standard diesel engine onboard, Sharp says he decided on hydrogen because it has the ability to offer a renewable fuel produced by renewable energy.
"The solution needed to give us a practical motoring range of typically at least eight hours, as required by the safety rules for yachts," he says.
"Lithium batteries very quickly become too heavy and too expensive to meet this, and through our early studies we converged on hydrogen."
"It has the ability to offer a renewable fuel if produced by renewable energy, it can be stored at eight to 10 times the energy density of batteries, and then used to generate clean power through the fuel cell."
"The latest studies done by Lloyds Register in collaboration with the Global Maritime Forum indeed show that green hydrogen will be a vital mix in the pathway to decarbonisation for the maritime sector."
Sharp said the main goal of his tough ocean racing programme is The Ocean Race 2021/22, formerly the Volvo Ocean Race, which visits every continent, including stopovers in Europe, US, Brazil, South Africa, New Zealand and China.
"It is a marathon event and also an incredible opportunity to test and showcase the global importance of embracing hydrogen technology," Sharp highlights.
"The four-year championship then builds up to sailing's Everest in 2024, the Vendée Globe, which is solo non-stop around the world, starting and finishing in the port of Les Sables d'Olonne, in France."
This year Sharp became a father for the first time, an experience which underlined to him that time is of the essence when it comes to global warming.
"We cannot leave the world in an irreversible mess for the next generation to deal with," he says.
"Countless times I have been engulfed in pollution caused by ships whilst sailing past them.
"If you pass behind any ship it is inevitable that you will be breathing in the thick, oily fumes, and sometimes you can even smell a ship from miles away. This gives an idea of just how much toxic smoke is dispersed."
"I have noticed the wider effects of climate change with increased intensity and frequency of tropical storms in the Atlantic over the last few years."
"These are driven heavily by the sea temperature, which is making cyclones more severe and also extending the hurricane season."
"I gain huge satisfaction from doing something tangible for the environment and having some impact from what I am doing on the water. It amplifies the interest and my relationship with the ocean by an order of magnitude."
OceansLab is developing a global syndicate of expertise across various industries to satisfy the technology requirements. Alongside continuing partners from Sharp's Class 40 (foot) racing innovations project, the team are looking for additional sponsors and technical partners to grow the project to around-the-world racing in the 60ft IMOCA class. To find out more, contact [email protected]