Industry leader ITM Power designs and manufactures PEM electrolyser equipment, which is modular and scalable, making it a perfect fit for a range of applications where a supply of clean hydrogen is required. The electrolyser equipment also enhances the utilisation of renewable energy that would otherwise be wasted.
Integrated solutions for grid balancing, energy storage and the production of green hydrogen for transport, renewable heat and chemicals are the company's core. As a result, ITM Power is at the forefront of the hydrogen energy scene globally, from its base in Sheffield, UK and via offices in Australia, Germany, France, the US and Canada.
It's never been a busier time for the company than it is now, with over £300m worth of electrolysis equipment orders quoted in the last 12 months and major projects underway with Shell, Sumitomo Corporation, Cadent, Toyota, Honda, and Hyundai among others. Yet CEO Dr. Graham Cooley still found time to take five with H2 View to explain his passion for all things hydrogen.
Thanks for giving H2 View your time. We know you are a passionate advocate of all things hydrogen energy, so could you tell us why it's got you so enthused?
First of all, thank you very much for organising this interview, and for starting the new journal H2 View, which is an excellent idea. I come from an energy storage background and have for many years been interested in methods of storing renewable power.
The incredible thing about hydrogen is that you can convert renewable electrons into renewable hydrogen, and store molecules rather than storing electrons. The energy storage potential of hydrogen means that the world can get to net zero carbon because the stored energy can be used for heat, transport and decarbonising industry. This is why I am so enthused.
What hydrogen innovation or application makes you most excited for the future?
Electrolysers! This is the device that we concentrate on at ITM Power. It is the device that converts electrons to molecules of hydrogen energy storage and is the key device in the production of green hydrogen. Electrolysis, in my view, will be a central process in achieving a net zero carbon energy system.
What changes have you seen within the hydrogen ecosystem and community in the past year?
The past year has seen a phenomenal shift in the desire for large energy companies to enter the green hydrogen space. Over the last 12 months, we have quoted £330m worth of electrolysis equipment. The industry is now moving to the production of green hydrogen at the 100MW utility scale.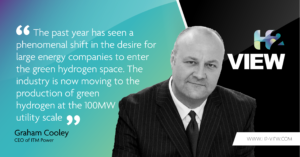 Where do you feel the pinch points or challenges currently are in the hydrogen space?
The key pinch point in the world of hydrogen, alternative fuels and indeed the whole energy sector is the lack of a coherent carbon pricing policy. The energy sector needs to put a price on carbon which is consistent across the globe. Without this, the energy industry will never transition to net zero.
What is ITM Power doing to shape the future of hydrogen energy – where is the focus?
At ITM Power we are building the world's largest PEM electrolyser at Shell Rhineland Refinery. Last week, we announced the development of Bessemer Park, the world's largest electrolyser factory with an annual capacity of 1GW (1,000 MW). Most hydrogen applications are at a huge scale, this is what ITM Power is responding to.