Gen2 Energy and Element 2 have joined forces to develop a plug and play supply chain for certified green hydrogen, which will be supplied to Element 2's UK hydrogen fuelling facilities in the UK.
The duo today (July 22) said they have signed an agreement for the effort which will allow Gen2 Energy to sell, and Element 2 to buy a defined quantity of hydrogen for the stations. Element 2 to sell the hydrogen at a competitive price.
Element 2 will receive its first commercial volumes from Gen2 Energy of hydrogen in 2023.
According to a recent statement, the partnership is now establishing the commercial terms and structures required to sign a contractual off-take agreement.
Commenting on the news, Andrew Hagan, Chief Development Officer at Element 2, said, "The agreement with Gen2 Energy is another exciting step forward as we continue to establish the UK's hydrogen infrastructure.
"The agreement accelerates our access to the largest capacity of green hydrogen at the most competitive prices possible across the UK. We look forward to receiving the first commercial volumes in 2023."
Jonas Meyer, CEO of Gen2 Energy, added, "The agreement with Element 2 is an exciting start to a collaboration between two companies that strongly believe in the hydrogen economy.
"It comes on the back of our agreement with Port of Cromarty Firth in Scotland a month ago and represents our key belief that the UK and the transport sector are two attractive markets. We look forward to supplying Element 2 with green hydrogen as they expand rapidly going forward."
The plans unveiled today will help Element 2 achieve its goal of deploying 800 hydrogen pumps across the UK by 2027.
Did you miss this exclusive interview with Tim Harper, CEO of Element 2?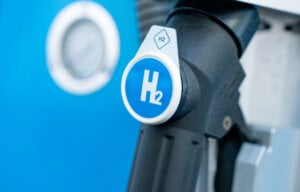 When asked about Element 2's ambitious goal to deploy 800 hydrogen pumps in the UK by 2027, the company's CEO, Tim Harper, told H2 View he wants to "just get on and do it to break the whole chicken and the egg situation."
Clearly passionate about the UK's hydrogen economy, and the country's journey to net zero, Harper explained that the company's ambitions all started over a pot of earl grey with his Co-Founder, Brendan Bilton, at the Coniston Hotel in the Yorkshire Dales.
"I have been looking into it [hydrogen] for 20 years, and my Co-Founder Brendan Bilton, he has been involved in hydrogen and fuel cell companies. A couple of years ago we were talking about doing something together in hydrogen, but the question always stood: What shall we do?
"With that in mind, we decided to have a meeting at the Coniston Hotel over a pot of earl grey and figure out exactly what we were going to do. I always like to map things out, and once we started mapping out our plans, we realised that there was a big link missing to connect hydrogen supply and demand in the UK – there was nobody putting the refuelling infrastructure in place."
Shortly after the business partners' meeting, the infrastructure idea begun to snowball, and the company now wants to deploy more than 800 hydrogen pumps in the country within the next six years to get the hydrogen mobility ball rolling – a goal that many find extraordinary.
Continue reading here.