H2X Global is set to pave the way for listing on a major global exchange in late 2021 or early 2022 to position itself as a global premium hydrogen vehicle manufacturer.
The Sydney-based company, which is currently undertaking a small capital raising, has developed a light duty, 30-75kW, optimised hydrogen fuel cell hybrid system that is based on decades of experience in vehicle development.
This hybrid technology is designed to drastically reduce refuelling times in addition to increasing driving range and hydrogen efficiency.
H2X's main focus is on high use vehicles for commercial and sharing purposes where the availability of the vehicle is key.
The company's modular platform allows it to offer several solutions with the hybrid energy system and the fuel cell to maximise the efficiency and performance according to the user.
Read more: H2X hopes to revive Australia's car industry with hydrogen technology
Read more: H2X Marine begins construction on hydrogen ferry
H2X is also developing multiple light vehicles using a H2X powertrain system, a common chassis using sophisticated localised and renewable bio composite materials.
This has developed a modular power concept that enables the fitting of H2X power systems to existing and new heavy equipment allowing for fast development of the hydrogen economy.
With a diverse range of products off a common platform, H2X can quickly support financially sound business cases for hydrogen rather than battery electric for commercial vehicles.
Brendan Norman, CEO of H2X, said, "One of our city focused vehicles will have a different Hybrid battery solution to a city vehicle, where we are working with more dynamic technologies to maximise retention of Kinetic Energy, which is our speciality to improve efficiency of the vehicles.
"H2X works with hydrogen infrastructure providers and forward-thinking industries to establish ecosystems which are cost effective from the start, where we look to offer multiple applications of vehicles to make it easy to reach a critical mass in one location.
"This supports not only the refuelling exercise, but also allows us to establish high-quality after sales operations in all locations that our customers will be using hydrogen."
Chris Reitz, Head of Design Vice-President at H2X, said, "Our approach on the vehicles is a complete redesign of the concept of how we build it. The production of vehicles can be optimised significantly with clean energy powertrains because of the shape and integration of the powertrains.
"We have exciting developments for efficiency, performance and to a very large extent in terms of use of renewable materials and clean manufacturing process."
How to fast track Australia's hydrogen industry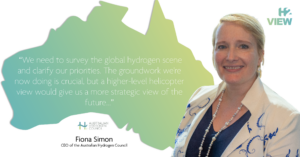 With China, Japan and South Korea recently announcing net zero targets, we can see that the transition from conventional fossil fuels is global and inevitable.
Within this energy transition, hydrogen is gaining increasing global attention for the important role it can play in the future energy mix. In combination with renewable electricity and batteries, clean hydrogen has potential to transform many countries' energy production and consumption. No longer an idea waiting for its time to come, hydrogen opportunities are now being actively pursued by countries and companies seeking to decarbonise.
Want to continue reading? Click here.