Hungary's first hydrogen refuelling station is now operational.
Integrated by industrial gas giant Linde, the facility marks a major milestone in the country's hydrogen-fuelled future.
Read more: New collaboration focusing on green hydrogen production in Hungary
An opening ceremony was last week held to recognise the station. It is thought the event was attended by László Palkovics, Minister of Innovation and Technology, Attila Steiner, State Secretary and István Lepsényi, Head of the National Hydrogen Technology Platform.
Hy-Hybrid Energy, a UK-based company with multiple hydrogen mobility projects happening in Hungary, has welcomed the news.
Read more: GOLDI and Hy-Hybrid Energy discuss hydrogen and fuel cell opportunities in Hungary
"The installation of the first hydrogen refuelling station in Hungary is a step in the right direction," Dr. Naveed Akhtar, CEO of Hy-Hybrid Energy, said.
"We've been waiting for a long time to hear such a great news as it complements our activities in the GOLDiON project, which include the country's first articulated fuel cell bus development."
Hy-Hybrid Energy: The future will be hydrogen-based hybrids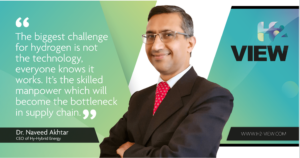 Working with the leading players in the hydrogen and fuel cell sector, Hy-Hybrid Energy provides services in clean energy technologies.
Based in Scotland, UK, the team are specialists in all major fuel cell types, renewable energy systems, hydrogen storage and production, and support both low and high temperature fuel cell technology. 
Hy-Hybrid Energy is currently leading one of the major fuel cell bus deployment projects in Hungary, a country CEO Dr. Naveed Akhtar says cannot be ignored.
"We believe that Hungary can play a significant role in bringing down the cost of fuel cell buses while maintaining the high-quality standards as required in the automotive sector, already evident by a large group of OEM's presences in Hungary," he tells H2 View.
Continue reading here.