The deployment of hydrogen in British Columbia (BC) will be required for the Canadian province to meet its 2030 and 2050 decarbonisation goals and emissions reduction commitments.
That's according to a study released this week by the Ministry of Energy, Mines and Petroleum Resources that found end use energy demand in BC was 1,165 petajoules (PJ) in 2016, with 68% of demand met through refined petroleum products and natural gas.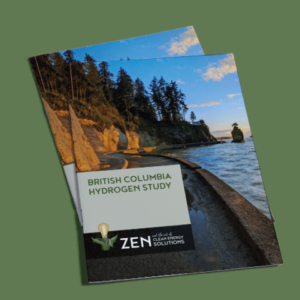 British Columbia Hydrogen Study said direct electrification and increased supply of renewable natural gas will not be able to displace all this energy to transition BC to lower carbon and ultimately renewable energy sources.
Hydrogen will play a critical role, particularly in energy intensive applications that are most reliant on fossil fuels today such as long-range transportation and heating.
The report found that BC can be a global leader by adopting policies that promote and support all sides of an emerging hydrogen economy including demand, supply and technology development.
Through a combination of policy and investment, the study said hydrogen can play a major role in the province by 2050.
It estimates $176m of government investment is needed over the next five years, approximately $35.2m a year.
The report said this funding would be focused primarily on supporting lighthouse projects and studies, funding critical infrastructure development, providing subsides for the rollout of light-duty FCEVs and supporting the sector through establishing dedicated R&D funding.
Advantage
Hydrogen is a versatile energy carrier that can be made from a range of feedstocks that are abundant in BC, and it has the advantage of being carbon free at the point of use.
BC has a distinct comparative advantage because of its clean electricity and low-cost natural gas resources, both of which can be leveraged to produce hydrogen. The study said hydrogen can be:
Blended with BC's rich natural gas reserves to create a cleaner burning fuel and increase the renewable content of the gas delivered through its extensive natural gas infrastructure
Used directly in fuel cells to produce zero emission electricity in electric vehicles, stationary power systems, and off-road industrial vehicles
Utilised as a feedstock in industrial applications, including to produce renewable synthetic liquid fuels that allow existing combustion engines to be used in a cleaner and more sustainable way
Use of hydrogen in BC is in the nascent stages, while the pace of worldwide deployment is clearly accelerating.
For BC to realise 2030 emissions reductions goals as set out in the CleanBC plan, it is important for government to work with industry now to establish supply and infrastructure necessary to stimulate adoption in the province.
Export opportunities can help to bring international investment to the development of our hydrogen energy systems and provide strong revenue generation potential.
According to the report, building of a vibrant and robust hydrogen economy in the province will result in:
Decarbonisation of hard-to-abate sectors of the economy such as heating and cooling, long-range transportation applications, and energy intensive industries
Economic growth and job creation through the development of BC's hydrogen supply chain and infrastructure, and supply to emerging export markets
Leveraging BC's natural gas reserves and infrastructure to meet emissions reductions goals in the mid-term while transitioning to renewable energy sources in the long-term.
Recommendations
The study outlines recommendations to support the development of a vibrant hydrogen economy in BC. The top ten recommendation themes for the 2020-2050 timeframe are to:
Identify and communicate hydrogen as priority sector for the province.
Prioritise development of large-scale, low carbon intensity hydrogen supply infrastructure and strategic hydrogen liquefaction and distribution assets in the province.
Adopt policy that specifies the carbon intensity of hydrogen, rather than limiting to renewable only. This includes updating the definition of renewable natural gas in BC's Greenhouse Gas Reduction Regulation to include low carbon intensity hydrogen.
Set longer-term objectives for transition to renewable hydrogen supplies through establishing tiered thresholds of required renewable content over time.
Develop flexible, lower cost electricity rate schedule to encourage production of Green Hydrogen.
Support lighthouse projects that will demonstrate the potential of hydrogen in critical end use applications
Adopt recommended policies and regulatory framework for light and heavy-duty FCEVs and support the build out of hydrogen refuelling infrastructure.
Support research, development and deployment in the province to ensure the local hydrogen cluster maintains competitive global advantages and remains an important economic sector within the province.
Support initiatives related to developing an export market for hydrogen, particularly those that can leverage international investment to develop local supply of hydrogen.
Prioritise a strategic investment fund to support the above recommendations.
The BC Hydrogen Study was conducted by Zen and the Art of Clean Energy Solutions, the Institute for Breakthrough Energy and Emission Technologies and G&S Budd Consulting Services.
The BC Ministry of Energy, Mines and Petroleum Resources, BC Bioenergy Network and FortisBC supported and contributed to the study.