Hyzon Motors has today (July 22) unveiled a new onboard hydrogen storage system to reduce both the weight and manufacturing cost of commercial vehicles powered by the company's hydrogen fuel cells.
According to the vehicle manufacturer, the patent-pending onboard storage system technology integrates lightweight composite materials with the system's metal frame – holding potential to reduce the systems overall weight by 43% and system costs by 52%.
In addition to reduce the weight and costs, the new system can also be configured to hold varying numbers of hydrogen tanks. The smallest version can hold five to seven tanks, and a separate version can hold ten tanks, appropriate for trucks driving longer distances.
On the development, Craig Knight CEO of Hyzon, said, "Hyzon is committed to continuous innovation in our zero-emission commercial vehicles, down to ever details, enabling our customers to make the switch to hydrogen from diesel without compromise.
"After years of research and development alongside our partners, this new storage technology further optimises the building cost of our hydrogen fuel cell-powered commercial vehicles, while reducing overall weight and increasing mileage capabilities."
Development of the technology was a cross-Atlantic collaboration between Hyzon's European and US teams, with the company planning to produce the new system at both its Rochester, New York and Groningen, the Netherlands facilities.
The technology has already been installed in pilot trucks in Europe and is expected to be deployed across all vehicles beginning in Q4 2021.
The global hydrogen revolution for commercial vehicles is here, and Hyzon Motors is at the vanguard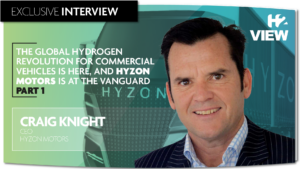 It was 2003 when Craig Knight, George Gu and Gary Robb set out on a mission to build the world's first profitable fuel cell company. Horizon Fuel Cell Technologies was established in Singapore that year, and has a founding story fuelled with curiosity, ambition and willingness to move forward in one of the most difficult technology spaces.
Technology-agnostic and commercially focused, Horizon's ambition was to achieve sustainable decarbonisation targets without relying on government subsidies, billions of dollars of private capital, and to create a profitable fuel cell company, in an industry that had not seen a profit in 30 years, and was still quite far from breaking through at the time.
Want to continue reading? Click here.