As part of a new agreement revealed today (Nov 15), Johnson Matthey and Hystar have partnered to develop next-generation electrolyser technology to boost green hydrogen production capabilities.
Under the agreement, Johnson Matthey will collaborate with Hystar to provide catalyst coated membranes (CCMs) for use in the company's innovative proton exchange membrane (PEM) stack and electrolyser system package, which offers a significant improvement in efficiency.
Read more: New hydrogen technology business launched by Johnson Matthey
The next generation cell design and PEM electrolyser system is said to be able to improve performance by 10% to enable greater hydrogen production.
This ultimately reduces the cost of hydrogen production in general.
Eugene McKenna, Managing Director of Green Hydrogen at Johnson Matthey, said, "We're excited to be working with Hystar to take their game-changing, innovative electrolyser system to the next level.
"The Hystar cell design offers significant performance improvements for electrolyser users and JM's CCMs have a much thinner, lower resistance membrane than those typically used in today's commercial PEM systems."
Alejandro Barnett, CTO and co-founder of Hystar, said, "JM CCMs have performed extremely well under Hystar operating conditions, and we are very thrilled to have the possibility to integrate CCMs that can be produced by high volume manufacturing methods into our electrolyser platform.
"This is a clear game changer when it comes to improving the performance of our electrolysers even further."
At the heart of the hydrogen economy: Johnson Matthey shares how its science and technology are driving the energy transition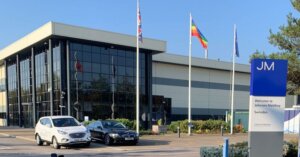 Johnson Matthey has been on a 200+ year journey from being a pioneer in the application of precious metals to a global leader in science for a cleaner, healthier world. With a long history in the refining of platinum group metals dating back to 1817, today Johnson Matthey's science and research touches some of the most pressing challenges faced by our planet and its people.
With the need to address climate change and reach net zero, it is clear emissions must be cut drastically from all areas of life, including sectors that are difficult to abate, such as heavy industry, heavy-duty vehicles, buses, trains and aviation. And with increasing recognition that hydrogen will play an important role in transforming these sectors, comes the challenge of deploying the technology at scale to support the shift to a hydrogen economy.
Want to continue reading? Click here.