Johnson Matthey and Plug Power have partnered today (May 26) to accelerate the delivery of advanced materials for next-generation electrolyser technology for green hydrogen.
The memorandum of understanding (MoU) will see the two companies develop a roadmap to accelerate the joint development of high-performance electrolyser technology with improved durability, increased performance and greater energy efficiency.
This will see a focus on the development, validation and incorporation of Johnson Matthey's advanced materials into Plug Power's electrolyser systems.
In addition to this, the companies will also investigate the development of a closed loop recycling system for the critical platinum group metals (pgm) used as catalysts in these systems.
Read more: Johnson Matthey technology selected for Chile green hydrogen project
Read more: Plug Power shares key hydrogen projects with business update
The two companies have firmly stated the intention in building the hydrogen economy and have a wealth of experience across the value chain.
Eugene McKenna, Managing Director at Johnson Matthey, said, "Our CCMs draw on innovations in catalyst, membrane and additive development built over many years and which are the foundation of our green hydrogen business today.
"Equally important is to enable a sustainable energy transition, which is why we will continue to drive the creation of closed loop recycling systems within the supply chain, to recover and reuse as much critical pgm material as possible.
"Plug Power has an innovative electrolyser technology and their knowledge and market position make them an ideal partner."
Rick Mason, Vice-President of Operations at Plug Power, said, "The new generation of proton exchange membrane (PEM) electrolysers will require solutions that are able to meet the increasing demands on efficiency and performance.
"We are excited to collaborate with JM on driving the integration of leading electrolyser component technology that will bring another vital element to reach a fully sustainable green hydrogen economy."
The Story of Plug Power
Want to find out more about Plug Power and its role in the hydrogen market? H2 View's Molly Burgess interviewed Andy Marsh, CEO of Plug Power, in an exclusive interview.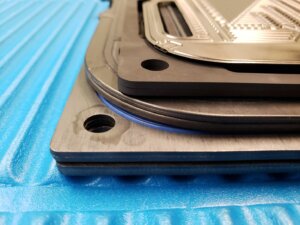 When Andy Marsh, CEO and President of Plug Power, first stepped foot through the company's factory doors in 2008, he never imagined he would be running a business that supplies the likes of Amazon and Walmart 13 years later, and a business that is on track to achieve $1bn in revenue by 2024.
Whilst success is strongly something that Plug Power oozes, the US fuel cell specialist's triumph is the result of years of hard work; something that Marsh strongly reaffirmed when he recently sat down with H2 View. "Plug has not been an overnight success; it's been a 25 year-long journey," he said.
Want to continue reading? Click here.