Irish building materials firm Kingspan Group has invested in H2 Green Steel, the company behind €2.5bn ($3bn) plans to build a gigascale green hydrogen plant in Northern Sweden that will produce fossil-free steel at a leading cost position.
The group sees the investment opportunity as a means to secure a long-term supply agreement that will see the company utilise H2 Green Steel (H2GS) to meet its steel requirements.
H2 Green Steel expects to have an annual production capacity of five million tonnes of high-quality steel by 2030, produced by a fossil-free manufacturing process.
Read more: Gigascale green hydrogen plant planned for northern Sweden
The total financing for the first phase of the project amounts to approximately €2.5bn ($3bn), the majority of which will be financed through green project financing, and Kingspan will be an early stage equity investor with Kingspan becoming a single digit minority shareholder.
The new source of steel is an important element in Kingspan's Planet Passionate sustainability strategy, a decarbonisation programme with a goal to half carbon intensity in Kingspan's primary supply chain, and to reduce its manufacturing carbon emissions to as close to zero as technically possible.
The production process replaces coke and coal with green hydrogen to achieve an almost a totally CO2 free steel product.
In doing so, the process abates about 95% of the CO2 emissions associated with traditional blast furnaces steel makers: one tonne of H2GS steel will emit less than 0.1 tonne of CO2 compared to more than two tonnes of CO2 emitted producing a traditional tonne of steel.
The green hydrogen gas is produced by electrolysis using electricity generated from hydropower and wind power which is plentiful in the Boden-Luleå region in northern Sweden where H2GS is constructing the world's first large-scale green steel production site.
Read more: Pillars of Progress: Power – Making steel green through hydrogen
The investment was made in a Series A equity fundraising round which is due to close later this month.
Investors in the same fundraising round include Scania, the IMAS Foundation (IMAS Foundation is a sister foundation to the INGKA Foundation—the owner of INGKA Group, who owns and operates the majority of IKEA stores globally) and Vargas.
Gene Murtagh, CEO of Kingspan, said, "We have set ourselves the challenging target of reducing emissions from the primary raw materials we use in manufacturing by 50% by 2030, and H2 Green Steel offers a compelling route to achieving this goal."
How the pull of green steel can make green hydrogen competitive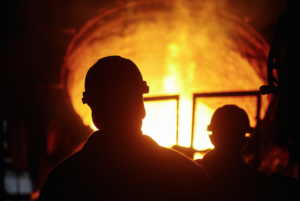 Following the announcement of the €2.5bn H2 Green Steel initiative that will establish the world's first large-scale green steel producer, Jacob Ruiter, CEO of EIT InnoEnergy Benelux, discusses how changing the way the business case for green hydrogen is considered has been vital for building momentum for Europe's green hydrogen value chain.
To read the story, click here.