Linde discussed its hydrogen producing electrolysers in a virtual discussion today (June 10) focused on the role hydrogen could have in the future of the economy and its influence in decarbonisation efforts.
Linde invested in ITM Power back in 2019 and later launched a new joint venture: ITM Linde Electrolysis. The joint venture aims to offer integrated offerings along the full hydrogen value chain, from generation to the application of the green gas.
Its industrial scale electrolysers have already been implemented into several hydrogen facilities across the world and currently help to produce the lucrative energy source.
Andreas Rupiper, of Linde, discussed the various types of clean hydrogen technologies that are currently available on the market and that Linde are producing. This includes green hydrogen, low carbon hydrogen and a minimum of 60% hydrogen. All these different types play a vital role in the new renewable energy market.
Read more: Linde Engineering to deliver green hydrogen solutions in Herten, Germany
Read more: Linde unveils plans for new hydrogen plant in Germany
Green hydrogen is the most sought-after variant however it is currently expensive to make due to production costs, by using low carbon hydrogen and minimum 60%, this provides a clean variant that has reduced emissions and can support the transition.
To make blue hydrogen effective however, Linde has suggested carbon capture storage facilities could collect the harmful emissions. This would mean that excess carbon is captured helping to reduce greenhouse gas emissions and could prove to be cost stable for clean energy.
The issue with blue hydrogen is that with the carbon capture storage (CCS), the point of sequestrian is often not local and thus a pipeline would be required to ensure that the CCS is effective.
Andreas Rupiper highlighted during the virtual discussion that the blue hydrogen can be used as a very efficient tool for a transition to more renewable energy, such as green hydrogen as it is able to be made vastly available at a low cost.
Green hydrogen has huge potential as a future clean energy source and Rupiper stated that "green hydrogen is more flexible in its production method".
Green hydrogen can be produced from various renewable energy sources such as wind power and solar energy meaning that much of the world is viable for making the fuel source. This allows for more flexibility in setting up green hydrogen plants and facilities that can be adjusted to help maximise the productivity in the region.
Despite this, an infrastructure is key for the successful development of green hydrogen, a dedicated intercontinental hydrogen pipeline is required to ensure that all businesses have access to the clean fuel. Because of this, green hydrogen is costly.
Electrolysis units have huge potential in the green space of today – by implementing these into the right facilities it could help power renewable, clean energy around the world in years to come.
Linde is catering for this market by commercialising three main industrial electrolysis categories: Plug and Play systems that are containerised systems between 2 – 10MW, Modularised plants between 10 – 50MW and train-based plants with 30MW+ (gigastack).
How Linde is scaling up to serve the growing hydrogen mobility market in North America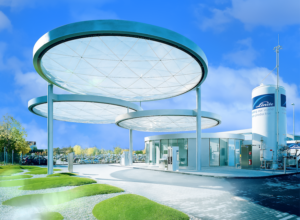 Linde is currently in the process of retrofitting its Ontario, California plant to produce green hydrogen to fuel the US state's mobility market. Targeting the second quarter of 2021 for full commercialisation, the facility will manufacture green hydrogen using renewable methane, in addition to producing conventional hydrogen.
With this investment, the US-German industrial gas giant will be able to initially produce 2.6 metric tons of green hydrogen per day – enough to fuel up to 1,600 vehicles a day – helping to avoid up to 50,000 metric tons of carbon dioxide per year. As demand for green hydrogen grows, Linde plans to expand its capacity accordingly, and revealed to H2 View that the US mobility market is a big focus for the company.
Want to continue reading? Click here.