Clean energy solutions provider Logan Energy has been selected to supply and maintain a hydrogen refuelling station in Belfast to support the roll-out of three hydrogen-fuelled double decker buses in the city.
The 'Northern Ireland Hydrogen Transport' project, led by Energia Group and public transport partner Translink, received £1.9m of grant funding from the Hydrogen for Transport Programme (HTP) – an initiative launched by the Office for Low Emission Vehicles (OLEV).
Edinburgh-based Logan Energy has now been contracted by consortium partner Energia Group – Northern Ireland's leading energy supplier – to design, deliver and maintain the hydrogen refuelling station for the project at Translink's Milewater Service Centre in Belfast.
Logan Energy was selected as the project's hydrogen partner due to its strong track record and experience in delivering hydrogen refuelling stations and integrated hydrogen technologies.
Reflecting on the company's strong track record in delivering hydrogen stations and integrated technologies, and its selection for this contract, Logan Energy CEO Bill Ireland said, "We are pleased to have been chosen as the hydrogen partner of choice for this significant project in Belfast."
"The refuelling station we intend to supply will be our largest capacity yet and will be the first one intended for the refuelling of double decker buses. Our role in this project will be extremely valuable in building on our already extensive experience of delivering hydrogen refuelling stations across the UK and Europe."
He continued, "With the demand to switch to a low-carbon economy greater than ever before, this pilot project will provide an opportunity to further explore this innovative technology for bus travel as an efficient and economic zero emission solution, with potential for more vehicles to be introduced into the fleet in the future."
Logan Energy has been integrating, installing and maintaining fuel cells for more than a decade in the UK and Ireland previously spoke of the need for more action in building hydrogen infrastructure, in an exclusive interview with H2 View in October.
"It's important that we keep up the recent momentum," he said. "We need to shift words into action and large-scale deployment – not repeating demonstration projects that have been undertaken elsewhere."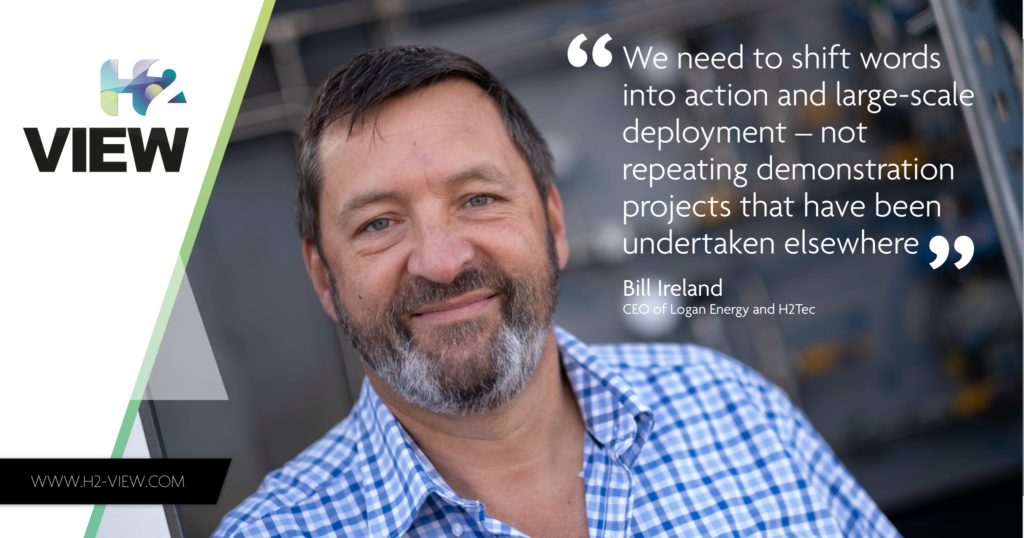 The new fuel cell buses will be powered by renewable hydrogen produced through electrolysis on Energia's Long Mountain Windfarm near Rasharkin in County Antrim.
Peter Baillie, Managing Director of Energia Renewables, said: "Energia is proud to be driving the transition to a lower carbon future with our hydrogen production project.
"When the wind energy our turbines produce exceeds demand, rather than curtailing the electricity, we will be producing green hydrogen. The pilot project on our wind farm is supported by the international consortium, GenComm, with funding from the EU's Interreg programme. Together, we are keen to see the development of hydrogen infrastructure in Northern Ireland."
The OLEV-run Hydrogen Transport Programme has awarded £23 million of funding to six projects across the UK to expand its refuelling network and increase fuelling station utilisation with new vehicles.
The primary objectives of the HTP are to increase the number of publicly accessible hydrogen refuelling stations and to grow the number of fuel cell powered electric vehicles on UK roads.