Michelin has revealed today (July 6) that its ground-breaking hydrogen-powered MissionH24 endurance racer will be featuring at this year's Goodwood Festival of Speed.
The racer is expected to be taking on a hill climb and will then be showcased on the Michelin Supercar Paddock stage every day of the four-day event.
The LMPH2G is a technological marvel, backed by partners Michelin and hydrogen fuel cell maker Symbio.
The vehicle features a four-stack hydrogen fuel cell that powers four electric motors, creating a combined output of 653hp.
This power, coupled with the vehicle's lightweight chassis and aero-dynamic features, give it a top speed in excess of 185mph while also allowing it to maintain the durability and handling performance expected of a high-level endurance racing vehicle.
Read more: Faurecia and Michelin form joint venture focused on hydrogen mobility
Read more: Faurecia and Michelin formalise joint venture
The H24 has set its sights on featuring on the world's premier endurance racing competitions, including the prestigious 24 Hours of Le Mans.
In 2018, Le Mans organiser Automobile Club de l'Ouest and electric-hydrogen specialist GreenGT announced that they would launch a hydrogen class of vehicles in 2024; an initiative collectively known as MissionH24.
Peyman Sabet, Vice-President of Business Development at Michelin North Europe, said, "The partnership with GreenGT H24 highlights Michelin's drive to innovation and it is the perfect vehicle to feature Michelin's 46 per cent sustainable tyres.
"Both pioneering developments honour the company's commitment to sustainability, without compromising on performance.
"We are delighted to bring MissionH24 to the Goodwood Festival of Speed and really excited that fans will be able to watch it take on the hill."
Michelin betting big on hydrogen as it moves beyond tyres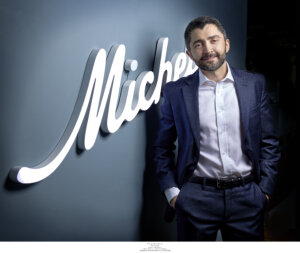 Michelin: A household name and a brand synonymous all over the world for its role in mobility. As the French company continues to expand, invest and innovate in its tyre business, post-Covid mobility trends and the accelerating growth of the electric vehicle market represent growth opportunities for the firm. And Michelin is betting big on hydrogen.
Transportation generates 23% of global CO2 emissions and a transition to electric vehicles appears to be the best way to achieve a long-term improvement in air quality. But battery-electric vehicles are limited by two weaknesses: their limited range (100-300km depending on usage) and the downtime required for a full charge. Enter the hydrogen fuel cell.
Want to continue reading? Click here.