A team of researchers at the University of Tartu is developing microscale fuel cells that can power diverse, small applications in the future.
As part of the project that has been funded with €154,000 ($187,826) by the EU, it is hoped that the researchers will be able to generate 1W of energy with the mini fuel cells by July 2023.
It is hoped that, should this project prove successful, the mini fuel cell could power drones, power environmental monitoring devices, track weather or even be utilised in agricultural applications.
Read more: The first-ever smart hydrogen cabinet unveiled in Estonia
Current market fuel cells that are needed to power transport or one's home can be as large as a refrigerator.
Because of this, it is clear that these fuel cells cannot be contained in a mobile phone or an unmanned aerial vehicle such as a drone.
Glen Kelp, Researcher at the University of Tartu and leading the project, said, "The problem is if you go for smaller scale solutions it's not viable if you want to put it inside something like your phone or smaller."
Read more: Inergio prototype to pave way for mini hydrogen fuel cells
Scientists have been working to develop miniature tubular solid oxide fuel cells to counter this exact issue, one problem is to reduce the current diameter for solid oxide fuel cells (SOFC) tubes by an order of magnitude.
Current state-of-the art SOFC tubes are about 1mm in diameter however the team at Tartu has been working to fabricate yttria-stabilised zirconia microtubes with diameters of less than 100 micrometres and wall thickness of between 5 and 10 micrometres.
During the course of the FIMS project, porous electrode deposition on the microtubes will be refined and a stack of SOFCs capable of use in commercial applications will be tested.
Kelp said, "Because this project is specifically concerned with miniaturisation, the first beneficiaries that could use these small fuel cells are definitely small area vehicles.
"The use of drones outside of the military has increased a lot, and civil applications are widespread.
"Remote applications are also a potential use case, these are devices that gather information, talk to each other related to agriculture and to other surveying tasks.
"A lot of the time, these devices sit in remote locations, where you don't have a permanent electrical connection."
Hydrogen in Estonia: An interview with PowerUP Energy Technologies' Dr. Ivar Kruusenberg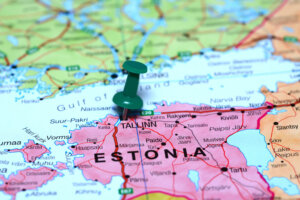 Estonian start-up company PowerUP Energy Technologies last week launched the first hydrogen cabinet with ambitions to support the hydrogen infrastructure in the country.
Dr. Ivar Kruusenberg, CEO and founder of PowerUP Energy Technologies, believes Estonia has a lot of potential to be at the forefront of the hydrogen economy: "Estonia has a huge potential with open sea wind farms to produce green electricity and then the export value of green ammonia. There's definitely a big potential there."
The launch of the pilot hydrogen smart cabinet in Estonia, a simple and cost-effective solution to hydrogen distribution, and based on the response from the customers in Estonia, is planned to be duplicated in other European countries as well.
Want to continue reading? Click here.