Nedbank Namibia has donated N$350,000 to supporting the country's emerging green hydrogen economy.
The Ministry of Mines and Energy of the Republic of Namibia has set out on a path towards the realisation of the nation's goal of being self-sufficient in the production of green hydrogen.
These initiatives focus on the urgent development of key skills and the collaborative efforts that are required as Namibia sets its sights on the emerging green hydrogen economy. The southern African country is targeting a production of 10-12 million tonnes per annum hydrogen equivalent by 2050.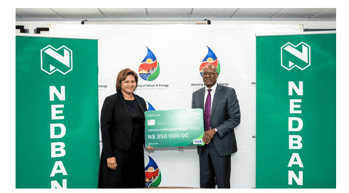 Speaking at the official handover of the funds, Nedbank Namibia Managing Director, Martha Murorua said, "We realised just how important the green hydrogen initiatives are set to become for the economic growth of our country. Nedbank Namibia has had a vested interest in environmental sustainability, in particular, having pioneered the establishment of our Go Green Fund 22 years ago already," she said.
... to continue reading you must be subscribed