The Netherlands and Belgium could supply up to 62% of the EU's 10Mtpa hydrogen import target for 2030, according to Westwood Global Energy Group research.
But it warns sufficient risk remains in both countries' hydrogen project pipelines, potentially necessitating hydrogen imports to meet their own domestic needs. The Netherlands ranks second in the list of European emitters, and Belgium eighth.
Research reveals only 3Mtpa of the Netherlands' announced hydrogen pipeline is 'probable', leaving the country 1GW short of its 4GW by 2030 target.
This increases to a shortfall of 5GW if the proposed 8GW target for 2032 is approved. So imports could likely be required to meet the country's own domestic decarbonisation goals before being available to wider-Europe.
David Linden, Head of Energy Transition, Westwood, said: "The Netherlands and Belgium are already laying the groundwork to lead the way on hydrogen imports in Northwest Europe. Despite Belgium's seemingly conservative target relative to the Netherlands, the country stands ready to take the necessary steps for the promotion of hydrogen today, with great potential for further expansion in the future."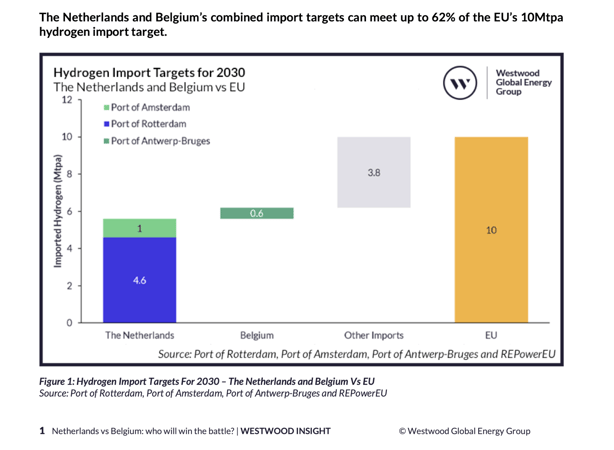 Jun Sasamura, Senior Analyst – Hydrogen, Westwood, said, "As home to two of the continent's biggest ports, the expansion of critical infrastructure linking supply and demand will be key to success, as will the establishment of global partnerships capable of supplying low-cost hydrogen."
The success of domestic offshore wind will also play a pivotal role in meeting hydrogen targets. Nearly three-quarters (72%) of the Netherlands' 12.5GW pipeline are green hydrogen projects with 92% of these requiring power from offshore wind. Both countries' proximity to Germany are other attributes, and in Rotterdam and Antwerp, they have heavyweight ports which will play major roles in the transition.
The Netherlands targets first hydrogen imports (in the form of ammonia) from 2024, with large-scale imports to follow in 2027-2028 and imports for Europe from 2030. Belgium aims to begin importing hydrogen from 2027 and be connected to Germany from 2028.
The Netherlands announced partnerships with 10 potential hydrogen supplying countries, while Belgium has announced seven. Apart from Canada, all the partner countries have announced targets for either hydrogen production or price.
The Netherlands intends to repurpose 85% of its existing onshore 12,000km gas pipeline for hydrogen (15% will be newbuild) while in Belgium, Fluxys has 4,100km of existing gas pipelines and intends to commission 100-160km of new/repurposed pipeline for hydrogen.
The pipelines of both countries will initially link their domestic industrial clusters but also include plans to link into neighbouring EU countries from the mid-to-late 2020s.
Read more on pipelines in H2 View's storage and distribution issue in December.