A newly-formed coalition in the US is calling on policymakers to ensure clean hydrogen plays a "significant" role to advance a national energy and climate strategy, in line with President Biden's plan to 'Build Back Better'.
Comprising a diverse group of stakeholders, the Clean Hydrogen Future Coalition (CHFC) was announced on Monday (22nd March) with a shared vision to support federal clean hydrogen policies that promote the zero-carbon molecule as a key pathway to achieve global decarbonisation objectives, while also increasing US global competitiveness.
Read more: US Department of Energy kickstarts Biden's climate change goals with $2m funding boost for hydrogen technologies
Read more: Biden-Harris Administration targeting low-cost hydrogen production
To catalyse a clean hydrogen industry in the US, the coalition is identifying specific actions that the US can undertake to scale the full supply chain for clean hydrogen production, transport, storage, and use, as well as the technology development and infrastructure needs across multiple sectors.
With the US lagging behind other nations in scaling up the supply chain for clean hydrogen, the CHFC aims to support policies that promote clean hydrogen.
"Clean Hydrogen fits squarely within President Biden's plan to 'Build Back Better' as it has the potential to decarbonise all sectors of the US economy, create and transition good-paying jobs, and grow our economy," said Erik Mason, Nikola Global Head of Energy Supply & Trading and incoming chair of the Clean Hydrogen Future Coalition.
"It's critical that public and private sector leaders work together so that our country can reap the benefit from strategic investments that advance clean hydrogen technologies and a clean energy future."
Clean hydrogen has the ability to accelerate decarbonisation across all sectors of our economy, as well as transition existing – and create new – skilled, high wage jobs needed to support the clean energy transition.
In addition to the wide range of market applications and potential for significant future demand, clean hydrogen can be produced from a variety of energy sources, used as a replacement fuel or feedstock in several industries, store energy over long periods of time, as well as move and deliver energy to where it is needed, making it a highly versatile, clean energy resource.
"We are enthusiastic that many sectors of the economy are joining together to advocate for clean hydrogen as a critical pathway to achieve the emission reduction goals we have set for the businesses and groups we lead," said David Carroll, President and CEO of Gas Technology Institute (GTI); Richard Voorberg, President of Siemens Energy; Sean McGarvey, President of North America's Building Trades Unions (NABTU); and Alan Armstrong, President and CEO of The Williams Companies.
"Our organisations, as well as several other US businesses, have identified clean hydrogen as essential to meeting our targets, and we are eager to work with President Biden, his administration and Congress to foster clean hydrogen's growth throughout our economy."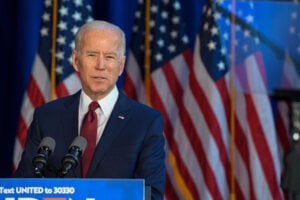 Hydrogen amongst Joe Biden's clean energy plans for the US
US President Joe Biden's Build Back Better plan is a national effort aimed at creating the jobs needed to build a modern, sustainable infrastructure now and deliver an equitable clean energy future.
It's expected Biden will make a $2 trillion accelerated investment, with a plan to deploy those resources over his first term, some of which will go towards innovation and driving dramatic cost reductions in critical clean energy technologies including renewable hydrogen. 
"It was heartening to see hydrogen and fuel cells mentioned in Biden's energy plans and we will work hard to make sure they come to fruition," Morry Markowitz, President of the Fuel Cell and Hydrogen Energy Association (FCHEA) told H2 View in a recent interview, as he discussed what Biden's presidency could mean for the industry.
If you missed the interview with Morry Markowitz, read it again here.