The whole of the UK could have 5G network coverage powered by renewable hydrogen in the near future.
Developed by Stratospheric Platforms (SP) and Deutsche Telekom, a high-altitude hydrogen-powered aircraft, known as HAP, has been created that can provide uninterrupted 5G connectivity to smart phones in addition to broadband connectivity to properties.
Read more: Nordic communication networks could be powered by hydrogen fuel cells
The aircraft is capable of connecting across areas as wide as 140km and has been proposed to the UK Government's Department for Digital, Culture, Media and Sport (DCMS) for complete coverage of the UK with the aircraft operating from Prestwick.
With the aircrafts operating as a network of masts in the sky, it could also enable 5G mobile phone coverage in geographically challenging locations, such as Scotland, ensuring all customers have access to the network.
Each Stratomast HAP carries a large high-power telecommunications system capable of covering up to 15,000 km2 with the aircraft and payload powered by a zero emissions, hydrogen power system.
According to SP, a fleet of 21 HAP aircraft is capable to 100% cover Scotland and would require eight offshore wind turbines to generate the power required for hydrogen from seawater to service throughout the year.
By implementing the hydrogen-powered 5G coverage, rural businesses could benefit from the network in addition to supporting fishing communities with mobile phone access far out at sea.
Northern Europe could also benefit from this project in the future.
US DOE, General Motors, Microsoft and Plug Power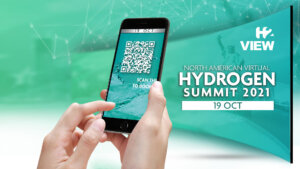 What does the US Department of Energy (DOE), General Motors, Microsoft and Plug Power have in common? They're all speaking at H2 View's North American Virtual Hydrogen Event in October. Will you be joining us on October 19?
North America is in a prime position to lead efforts in decarbonisation, but it still has great distances to travel. The region has been giving chase in a race to green hydrogen dominated by Europe and Asia-Pacific. If policymakers and industry can work together and take the right steps to realise a hydrogen vision, the region is perfectly placed to expand its global energy leadership at scale and speed.
What lessons can be learned from Europe's policymakers? What are the challenges to be overcome? What are the strengths and opportunities? How can North America go from giving chase to taking a lead in hydrogen? These are all questions our virtual event will address across H2 View's four pillars of Mobility, Power, Policy and Technology.
Further information on the event, agenda and confirmed speakers can be found here.
To book your virtual delegate pass, click here.