A new strategic agreement has been reached today (29th April) between Plug Power and BAE Systems to advance innovative total solutions for hydrogen-powered electric buses.
The agreement will see the two companies collaborate in supplying zero-emission powertrains to heavy-duty transit bus OEMs in North America currently integrating Plug Power's ProGen fuel cell engines into BAE Systems' smart electric drive systems.
This will also see the companies also provide hydrogen and refuelling infrastructure to end-customers use points.
The partnership expands both companies' reach into the market for commercial on-road applications, as demand for zero-emission power solutions grows alongside efforts to decarbonise transportation.
As well as this, the agreement also aligns with Plug Power's global strategy to promote the adoption of hydrogen fuel cell technology in on and off-road electric vehicle fleets.
Read more: Plug Power and Universal Hydrogen strengthen partnership for hydrogen-fuelled aviation
Read more: Plug Power continues to shape its role in the emerging hydrogen economy
BAE Systems is an established leader in power management and advocated for hydrogen-based transit since 1998, having integrated fuel cells into its electric propulsion systems since then.
Plug Power also has experience in utilising hydrogen with more than 40,000 fuel cell units deployed over the last 20 years. This includes the ProGen fuel cell engines for OEM integration ranging from 30kW to 125kW.
In addition to this, Plug Power says it has built more hydrogen refuelling stations than any other company and has become the largest buyer of liquid hydrogen globally.
Both companies will now leverage its expertise to bring the sustainability, efficiency and cost advantages of green hydrogen to more cities in North America and beyond.
Andy Marsh, CEO of Plug Power, said, "This strategic partnership will play an instrumental role in advancing our on-road applications strategy and delivering new growth opportunities that help meet our year-end 2025 goals, including annual production of 500 tonnes of green hydrogen daily."
Steve Trichka, Vice President at BAE Systems, said, "For years, BAE Systems' electric propulsion solutions have helped the world's leading cities to reduce harmful emissions and improve quality of life for residents. Now, with Plug Power, we're taking the next step.
"Advanced hydrogen fuel cell applications will play a critical role in achieving zero-emissions transportation goals."
The Story of Plug Power
Want to find out more about Plug Power and its role in the hydrogen market? H2 View's Molly Burgess interviewed Andy Marsh, CEO of Plug Power, in an exclusive interview.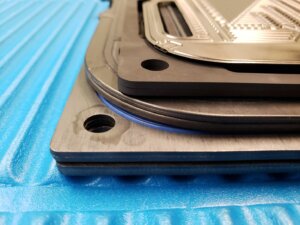 When Andy Marsh, CEO and President of Plug Power, first stepped foot through the company's factory doors in 2008, he never imagined he would be running a business that supplies the likes of Amazon and Walmart 13 years later, and a business that is on track to achieve $1bn in revenue by 2024.
Whilst success is strongly something that Plug Power oozes, the US fuel cell specialist's triumph is the result of years of hard work; something that Marsh strongly reaffirmed when he recently sat down with H2 View. "Plug has not been an overnight success; it's been a 25 year-long journey," he said.
Want to continue reading? Click here.