Plug Power has today (June 10) unveiled plans for a 15 tonnes per day liquid green hydrogen production plant in Camden County, Georgia.
Having just unveiled details for the development, Plug Power said it will invest $84m in the facility, which is expected to create at least 24 local jobs starting in 2022.
Once operational, the plant will produce liquid green hydrogen using 100% renewable energy. Hydrogen produced at the site will be used for transportation applications.
Commenting on the announcement, Andy Marsh, CEO of Plug Power, said, "With this hydrogen production plant, we are expanding our green hydrogen network to provide zero emissions fuel to customer in George and across the Southeast.
"Investing in Camden County is the right choice to support Plug Power's continued growth."
Plug Power is now working closely with local and state authorities as it moves forward with the development and has already signed some agreements to move plans forward.
Such signings include a Purchase Power Agreement with Okefenokee Rural Electric Membership Corporation to source the renewable electricity needed to power the plant.
Further to that, Plug Power has entered into a Memorandum of Understanding (MoU) with Camden County Joint Development Authority for land and local site support.
The exact plant location and details about construction will be finalised later this year.
Welcoming the development, Kingsland Mayor Dr. Grayson Day, said, "We look forward to working with Plug Power and our state and local economic development partners on this exciting project that clearly demonstrate that Kingsland is open for business."
James Coughlin, Executive Director of the Camden County Joint Development Authority, said, "We are proud to welcome Plug Power to Camden County.
"The Authority was happy to structure a package that is beneficial for the company and the community, and we are grateful for the cooperation between our partners, Okefenokee EMC, the Georgia Department of Economic Development and the City of Kingsland.
"This type of forward-thinking collaboration is what makes projects work in Southeast Georgia."
Plug Power said the development is part of its continued commitment to establish the first North American green hydrogen supply network.
The Camden County plant joins previously announced facilities in South Central Pennsylvania and the Western New York Science, Technology and Advanced Manufacturing (STAMP) Park as key milestones in the company's goal of producing over 500 tonnes per day of hydrogen by 2025.
The story of Plug Power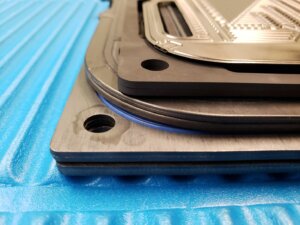 When Andy Marsh, CEO and President of Plug Power, first stepped foot through the company's factory doors in 2008, he never imagined he would be running a business that supplies the likes of Amazon and Walmart 13 years later, and a business that is on track to achieve $1bn in revenue by 2024.
Whilst success is strongly something that Plug Power oozes, the US fuel cell specialist's triumph is the result of years of hard work; something that Marsh strongly reaffirmed when he recently sat down with H2 View. "Plug has not been an overnight success; it's been a 25 year-long journey," he said.
"Personally, I can remember walking through the factory we had in New York and thinking to myself, 'How in the world am I going to fill this?' Fast forward to today, and Plug is producing green hydrogen to meet the needs of our customers. We have developed technology and entered into partnerships that have created a vertically-integrated portfolio that allows Plug Power to scale as we build the green hydrogen economy."
It's such turkey solutions that have enabled Plug Power to do everything from fuel cell manufacturing, green hydrogen production and hydrogen infrastructure, to on-road applications, large-scale stationary power and aftermarket service, both in solo projects and as part of industry collaborations.
Read the full article here.