Queensland, Australia is investing A$2bn ($1.5bn) into renewable energy and hydrogen jobs.
The Palaszczuk Government today (June 10) shared its commitment as part of its Covid-19 Economic Recovery Plan to provide cheaper and cleaner energy to power more employment.
It is believed the investment will ensure that Queensland capitalises on economic development opportunities for both more industries and jobs.
Read more: Queensland reveals $19m hydrogen industry strategy
Premier Annastacia Palaszczuk, commented, "Queensland is positioned better than anywhere in Australia to capitalise on the jobs and industries that will flow from this cheaper, cleaner energy.
"This A$2bn ($1.5bn) Queensland Renewable Energy and Hydrogen Jobs Fund is all about more jobs and more industries.
"It will also support the further development of Queensland's resources sector while at the same time helping to deliver on our 50% renewable energy target by 2030."
The Palaszczuk Government hope it's A$2bn ($1.5bn) blue-collar job investment will support a transformational cycle of Queensland investment by:
Providing cheaper, cleaner energy: investment in local manufacturing of renewables and hydrogen delivers lower cost energy and frees up gas as an industrial input for manufacturing.
Powering more jobs and more industries: developing projects in our hydrogen and renewable industries means cheaper energy powering more Queensland manufacturing.
Supercharging our resources sector: an increased demand for cleaner energy will drive the expansion of our resources sector, including the North-West Minerals Province, providing the cobalt, copper, scandium, nickel, vanadium, bauxite and alumina needed for batteries, electric vehicles and solar panels.
Read more: Hydrogen Industry Mission launched to accelerate Australia's hydrogen future
Deputy Premier Steven Miles said the Palaszczuk Government's Queensland Jobs Fund was encouraging investment in Queensland and focusing on job-creating industries like renewable energy, hydrogen, and manufacturing.
"The Queensland Jobs Fund, which now includes A$2bn ($1.5bn) for renewable energy and hydrogen jobs, is the government's next step toward Queensland's continued economic recovery," he said.
"It's not just about helping businesses get back on track, it's about making sure we leverage the opportunities that we've created in Queensland off the back of our world-class pandemic response and recovery.
"Companies from around the world are looking to Queensland to expand and we want to help them.
"Encouraging investment in job-creating industries like renewable energy and hydrogen is part of Queensland's economic recovery plan."
The hydrogen market and opportunity in Oceania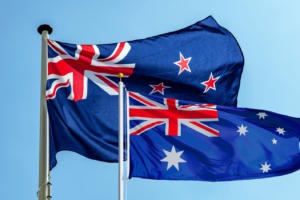 Hydrogen is poised to fulfil its potential as a clean alternative to hydrocarbons in the global pursuit of decarbonisation to address climate change. Australia and New Zealand are both investigating the most appropriate applications and transition pathway for hydrogen within their energy systems and economies, making best use of their existing natural, social, cultural, human and financial resources. 
In September 2019, New Zealand revealed its Green Paper – A Vision for Hydrogen in New Zealand that lays out the role hydrogen can play in the country's economy. While hydrogen produced from fossil fuels and industrial processes (brown, blue and grey) may play a role in the transition of New Zealand's regions and existing industries, the government considers there is greater opportunity for New Zealand in exploring the use of its renewable energy to produce green hydrogen as an alternative fuel for domestic use and for export. 
Two months later (November 2019), Australia released its National Hydrogen Strategy setting out a vision for a clean, innovative, safe and competitive hydrogen industry that benefits all Australians. Australia has the resources, and the experience, to take advantage of increasing global momentum for clean hydrogen and make it the next energy export. There is potential for thousands of new jobs, many in regional areas – and billions of dollars in economic growth between now and 2050. 
Continue reading here.