Tomorrow (May 29) marks the second stop on the off-road electric series Extreme E calendar – the Ocean X Prix set in Lac Rose, Dakar on the West African Senegalese coast.
Situated 37km from the capital, Dakar, the shores of Lac Rose hosted the finish of the world's most famous cross-country rally – the Paris-Dakar – on numerous occasions between 1979 and 2007, and will play host to the Extreme E Ocean X Prix this weekend.
Out on the course, drivers will once again face a mostly sandy terrain, though a very different challenge and location to the deserts of Saudi Arabia.
Here the race will take to the existing tracks surrounding the lake, named after, and renowned for its striking pink colour, caused by algae that thrives within its highly-saline waters. The full course will be revealed in the coming days.
Read more: All-electric off-road motorsport series Extreme E starts this weekend
Read more: Everything we know about AFC Energy's involvement in Extreme E
Once again, nine teams and 18 drivers will compete, but in a slight change to the Saudi Arabia race format, the final will be a four-car battle, with two teams from each of the two semi-finals progressing to the concluding race of the weekend.
The leading objective of Extreme E is to highlight the climate change challenges faced by different ecosystems around the world, whilst showcasing the performance of all-electric SUVs in extreme conditions.
Alejandro Agag, Founder and CEO of Extreme E, said, "I am delighted to be back in Dakar, a place with a vast motorsport heritage, and I can't wait to see our world-class line-up of drivers compete on this latest course we have devised.
"The Desert X Prix delivered some truly thrilling racing with a stunning backdrop and I'm sure Senegal will provide the same.
"But in Lac Rose we find an area suffering at the hands of the climate crisis, which is the true reason we are here. It doesn't take long upon arrival to see one of the biggest issues, plastic pollution, which is affecting the local community and its marine life.
"Through our Legacy Programmes, we are supporting the local community to make change, and I can't wait to see it for myself and help where I can."
Extreme E: A new era of motorsport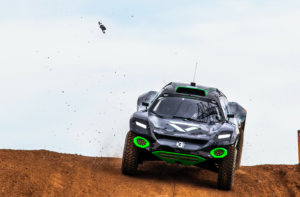 It's going to be a spectacular, captivating, narrative-driven adventure telling the story of the effects of climate change and human activity on stunning, remote locations around the world. And in a months' time, off-road electric series Extreme E will head to Saudi Arabia for the first of that five-race global voyage that will span four continents.
The rally championship will use a hydrogen fuel cell generator, designed and engineered by AFC Energy, to remotely charge its race fleet using zero-emission energy, marking a revolutionary first in international motorsport.
Extreme E's founder and CEO Alejandro Agag is no stranger to electrifying race cars having also established Formula E, an all-electric street racing series. What started as nothing more than a shared dream between Agag and FIA President Jean Todt, noted on the back of a napkin back in 2011, Formula E has developed into the fastest growing motorsport series on the plant.
Want to continue reading? Click here.