Shell Gas & Power Developments and Uniper Hydrogen have joined forces to accelerate the development of a hydrogen economy in Europe.
Having signed a Memorandum of Understanding (MoU) today (July 6), the duo will explore joint opportunities to couple industrial and mobility demand with hydrogen supply, production and storage.
Germany and the Netherlands have been identified by the partnership as key locations, with plans already solidified to explore necessary infrastructure needed for large-scale transportation of hydrogen at the ports of Rotterdam and Wilhelmshaven, as well North Rhine Westphalia.
Among other projects set to be considered will be Shell's Rheinland transformation where work is ongoing to transform an existing refining asset into a state-of-the-art energy and chemicals park.
Commenting on the news, Paul Bogers, Vice-President of Shell Hydrogen, said, "We're excited to be working with Uniper to explore the opportunities to help deliver the required infrastructure to make a hydrogen economy a reality.
"Collaborations like this one are necessary to accelerate the transition to hydrogen usage in both transport and industry and Shell is excited to be playing our part in driving this change."
Dr. Axel Wietfeld, CEO, Uniper Hydrogen, added, "Our mission is to connect Uniper's large scale hydrogen projects – e.g. in the Netherlands and in Northern Germany – with industrial customers to enable a decarbonisation of our economy.
"By way of hydrogen Uniper provides a CO2-free solution of how to transport the abundant renewable electricity from coastal regions and from offshore wind farms to the inland".
hell Hydrogen exclusive: We have to throw absolutely everything at it
Want to learn more about Shell's perspective on hydrogen? Rob Cockerill, Managing Editor of H2 View, spoke with Oliver Bishop, General Manager at Shell Hydrogen.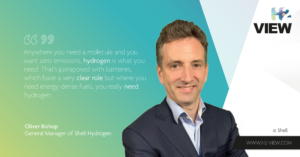 For some determined detractors, an inherent cynicism is often directed at heavyweight energy companies like Royal Dutch Shell. It has held back in the pursuit of clean energies for years, some might say; it's still far too rooted in oil and gas; it's only making blue-chip statements about clean fuels now that the topic is trending in the public eye. 
Over-analysis of group financial disclosures can furnish any argument about Shell's level of spend in clean energies. Likewise, anyone can lazily criticise the company for a perceived unwavering commitment to fossil fuels; they are of course the axes upon which the global economy currently turns, and those same energy companies have a demand to fill.
Want to continue reading? Click here.