Shell is set to trial the first use of hydrogen fuel cells for ships in Singapore which, if successful, could pave the way for hydrogen-powered shipping, the company announced today (21st April).
The trial – a first-of-its-kind for Shell and in Singapore, will develop and install an auxiliary power unit proton exchange membrane (PEM) fuel cell on an existing roll-on/roll-off (RoRo) vessel that will transport goods, vehicles and equipment on lorries between the mainland and Shell's Pulau Bakom manufacturing site.
Shell will charter the trial vessel and provide the hydrogen fuel and will work with SembCorp Marine and its wholly-owned subsidiary LMG Marin AS, which will design the fuel cell and retrofit the vessel, as well as Penguin International, which owns the RoRo vessel.
First, a feasibility study will be carried out with the intention to install the fuel cell next year and, when completed, the vessel will operate on a trial period for 12 months with customers and partners welcome to participate.
Shell said its analysis points to hydrogen with fuel cells as the zero-emission technology which has the greatest potential to help the shipping sector achieve net-zero emissions by 2050.
Read more: Shell to upgrade existing hydrogen facility to develop sustainable aviation fuels
Nick Potter, General Manager of Shell Shipping and Maritime in Asia Pacific and Middle East, said, "We see fuel cells and hydrogen as a promising pathway for decarbonising shipping and working with partners in this way will develop our understanding of this critical technology."
Wong Weng Sun, CEO and President of SembCorp Marine, said, "Hydrogen fuel cells have the potential to revolutionise shipping and transportation, enabling the industry to become greener with the ambition to achieve the 2050 target set by the International Maritime Organisation to reduce total greenhouse gas emissions from international shipping by at least 50%."
James Tham, Managing Director of Penguin, said, "Hydrogen is generally regarded as a new frontier in alternative fuels for shipping."
Shell Hydrogen exclusive: We have to throw absolutely everything at it
Want to learn more about Shell's perspective on hydrogen? Rob Cockerill, Managing Editor of H2 View, spoke with Oliver Bishop, General Manager at Shell Hydrogen.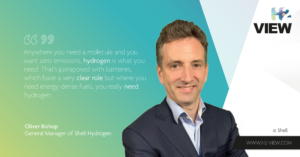 For some determined detractors, an inherent cynicism is often directed at heavyweight energy companies like Royal Dutch Shell. It has held back in the pursuit of clean energies for years, some might say; it's still far too rooted in oil and gas; it's only making blue-chip statements about clean fuels now that the topic is trending in the public eye. 
Over-analysis of group financial disclosures can furnish any argument about Shell's level of spend in clean energies. Likewise, anyone can lazily criticise the company for a perceived unwavering commitment to fossil fuels; they are of course the axes upon which the global economy currently turns, and those same energy companies have a demand to fill.
Want to continue reading? Click here.