Australian hydrogen research and development company Star Scientific has appointed Matthew Hingerty as Deputy Chairman, Deputy CEO and Chief of Business Development.
Having been with the company since 2020, Hingerty is already familiar with Star Scientific's goals and operations, and will now play a key role in driving support for green hydrogen across the business.
Welcoming his new titles, Hingerty said, "Star Scientific is a unique, innovative hydrogen company with a very big role to play now and into the future as the world transitions to cleaner forms of heat and energy.
"I am extremely proud of what we have achieved at Star Scientific to date and excited at what is ahead – green hydrogen is a critical energy carrier that will make cleaner, cheaper energy and heat possible, ushering in a new, cleaner industrial era.
"It is looking like a massive year for green hydrogen and an even a bigger one for the talented team at Star Scientific under the leadership of Andrew Horvath."
Global Group Chairman of Start Scientific, Horvath says that major announcements about the company are on the horizon. "Mr Hingerty will play a key role in driving support for green hydrogen across business and government as the heat and energy choice of the future," Horvath said.
"Australia is uniquely positioned to develop the global hydrogen economy, heralding a new era of research, development and deployment in the manufacture and installation of all parts of the hydrogen supply chain."
Star Scientific: Significant momentum for hydrogen in Australia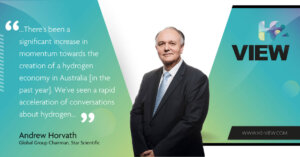 For nearly two decades, Sydney-based Star Scientific has been working on how humanity can transition to a new energy economy, independent of fossil fuels that damage the environment and pose a threat to sustainable future growth.
Backed by philanthropists and scientists who share the company's passion for solving this problem, Star Scientific has invested $85m in Australian research and development (R&D) to deliver on this ambitious but achievable goal.
Star Scientific's major breakthrough is the Hydrogen Energy Release Optimiser (HERO®). It produces unlimited, affordable, safe and reliable energy – with zero emissions.
According to the company, this truly innovative source of dispatchable power and heat can propel Australia and the world to overcome the most difficult energy challenges.
H2 View sat down with Andrew Horvath, Star Scientific's Global Group Chairman, to find out more about the HERO technology and talk about the increased momentum towards hydrogen and its applications in Australia.
Continue reading here.