Successful tests of the hydrogen-based fine-ore reduction (HYFOR) pilot plant have been performed by Primetals Technologies at the voestalpine site in Donawitz, Austria.
The HYFOR pilot plant employs the world's first direct reduction process for iron ore fines concentrates from ore beneficiation, not requiring any agglomeration like sintering or pelletising, the company has said.
Using hydrogen as a reduction agent reduces the carbon footprint to almost zero.
Read more: Salzgitter begins construction of hydrogen project for low-carbon steel production
Read more: How the pull of green steel can make green hydrogen competitive
In order to progress to carbon-free steel production, a process using mainly hydrogen is the most desirable.
The new process utilises 100% hydrogen from renewable energy or alternatively hydrogen-rich gases from other sources such as natural gas pyrolysis or conventional steam reformers.
The product is direct reduced iron (DRI) for hot transport and will feed to downstream melting such as hot briquetted iron (HBI) for being sold on the market.
The use of DRI and HBI is expected to grow due to the strong demand in decarbonising the steel sector and the growing number of electric arc furnaces in service worldwide.
First tests have been successfully executed with the scale of one test running in the range of processing 800kg iron ore.
The HYFOR pilot plant shall operate for at least two years in multiple campaigns to test various ore types and to evaluate the optimal process parameters for the next scale up step.
The new technology can be applied to all ore types (hematite and magnetite) and particle sizes up to 100% smaller than 0.15mm.
The direct reduction plant will come in a modular design, making it available for all sizes of steel plants.
The aim of the HYFOR pilot plant is to verify this break-through process and to serve as a testing facility to provide the data basis for upscaling the plant size to an industrial-scale prototype plant as the next development step.
Pillars of Progress: Power – Making steel green through hydrogen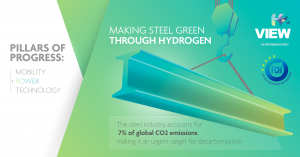 The steel industry accounts for 7% of global carbon dioxide emissions, making it an urgent target for decarbonisation.
With global steel demand set to increase by around 6% by 2030, greening the steel industry is essential for the energy transition.
The complex nature of steel production makes green hydrogen the most fitting solution for decarbonising the industry, through the indirect electrification of the iron ore reduction process. This will require the integration of variable renewable energy resources, through the use of hydrogen technologies.
Want to continue reading? Click here.