"California set out to prove to the nation and the world that hydrogen vehicles on our roads and highways are safe, affordable and viable," then Governor of California Arnold Schwarzenegger said in 2009 whilst on his Hydrogen Road Tour. "This tour showcases what I envisioned five years ago when I launched the Hydrogen Highway."
Standing next to Schwarzenegger as he spoke was Terry Tamminen. In the summer of 2003, it was Tamminen who helped Schwarzenegger to win the historic recall election and become Governor of California.
When Schwarzenegger stepped up as a candidate, he provided a solid plan of action to address the environmental concerns Californian citizens had at the time.
The story goes that when Schwarzenegger won the election, Tamminen congratulated him and said, "It's now up to you to implement the most aggressive environmental policy in the history of the country." And Schwarzenegger replied, "No I don't have to implement that Terry, you do."
It was on the recommendation of Robert F. Kenndy Jr, who at the time was a board member of Tamminem's think tank Environment Now, that Schwarzenegger snapped up Tamminen for his campaign and appointed him secretary of the California Environmental Protection Agency in 2003, and later cabinet secretary, the chief policy advisor to the governor.
Tamminen really is an environmental Rockstar and was the architect of many groundbreaking sustainability policies, including California's landmark Global Warming Solutions Act of 2006 and the Hydrogen Highway Network. He left state government in late 2006 in order to help other states and world governments adopt clean energy and sustainability policies based on California's successes.
In February 2007, Tamminen founded the non-profit organisation Seventh Generation Advisors (SGA). SGA's strategy is to create a "bottom up" approach, rather than waiting for policy from the top. This strategic approach has proven successful, and since 2007, Terry and SGA convinced many states and provinces to copy California policies and other "best practices" on clean energy and climate policy.
And you can hear more about all of this next month at H2 View's North American Virtual Hydrogen Event. We are excited to announce today that Tamminen joins our speaker line up for the virtual event on October 19.
Other high-profile speakers will include:
Sunita Satyapal, US Department of Energy
Frank Wolak, Fuel Cell and Hydrogen Energy Association (FCHEA)
Bill Elrick, California Fuel Cell Partnership (CaFCP)
Charlie Freese, General Motors
David Fernandes, Microsoft
Jackie Birdsall, Toyota Motor North America
For more information about the event including the full speaker line up, click here.
To book your ticket, click here.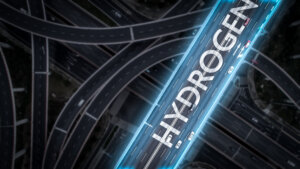 North America's hydrogen highway
It's 2004 and Arnold Schwarzenegger, then governor of California in the US, has just pulled up at the University of California, Davis's (UC Davis) new hydrogen station in a fuel cell car. It's the first publicly accessible station in California and Schwarzenegger refuels the hydrogen-powered car becoming the first member of the general public to use it. Declaring "this starts a new era for clean California transportation", Schwarzenegger then signed an executive order to create a hydrogen transportation network throughout California by 2010 – a 'hydrogen highway'.
Whilst California has very much been the frontrunner for hydrogen station and fuel cell electric vehicle (FCEV) deployments, today that 'hydrogen highway' just stretches outside of the sunshine state and into the wider nation, with some stations available in Canada too. According to the US Department of Energy, there are 51 hydrogen refuelling stations open to the public in the US today, the majority of which are in California, and five stations open to the public in Canada. Hydrogen mobility is in its beginning stages, but North America has big plans for this market.
Read the full feature here.