A Tokuyama factory in Japan is being powered by Panasonic's hydrogen fuel cell generators as part of a trial – and it's the first demonstration of its kind in the country.
Panasonic today (Sep 14) said it has installed the equipment – which configured six pure hydrogen fuel cell generators into one unit – at the Japanese chemicals company's factory in Shunan City, Yamaguchi Prefecture.
Hydrogen supply piping, thermal piping and power output lines were connected and integrated with the unit, thereby achieving the synergistic operation of six pure hydrogen fuel cell generators as one system, Panasonic explained.
Tokuyama provides a stable supply of by-product hydrogen to the pure hydrogen fuel cell generators, which is generated during the manufacturing of caustic soda through brine electrolysis by an ion-exchange membrane process.
Electric power generated by the demonstration equipment is used in offices at the factory, and heat generated during power generation is recovered in the form of hot water.
Tokuyama has been making efforts to effectively utilise by-product hydrogen as well as build a contribution model for the local community through the use of hydrogen. This demonstration work is carried out as part of such efforts.
Panasonic said it will verify and evaluate the system throughout the demonstration, which is expected to end in March 2023.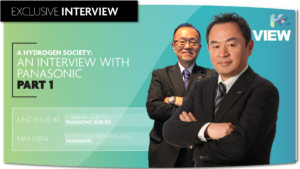 A hydrogen society: An interview with Panasonic, Part 1
Panasonic has been researching hydrogen energy technology for more than 20 years. In 2009, the company made household fuel cells – a product that uses hydrogen extracted from natural gas to make electricity and hot water in homes – commercially available in the Japanese market. Today this increasingly popular application is used in many homes and facilities.
This is just one of several initiatives Panasonic is working on to realise a hydrogen society in which hydrogen can be produced, stored and utilised easily in homes. To find out more about this vision, H2 View sat down with Junichi Suzuki, Chairman and CEO of Panasonic Europe, and Max Fujita, Head of European Fuel Cells at Panasonic.
Read the full interview here.