Hydrogen featured in Keith Rowley's, Prime Minister of Trinidad and Tobago, speech on energy with the nation said to be exploring feasibility and regulatory aspects of a hydrogen economy.
Hydrogen has been identified as a forerunner in many transition strategies across the world and the Prime Minister is looking for the Caribbean islands to seek a potentially lucrative opportunity to invest in the fuel of tomorrow.
In preparation for this, Trinidad and Tobago's Ministry of Energy and Energy Industries (MEEI) has established a Multidisciplinary Committee that is dedicated to developing a hydrogen economy framework for the nation.
With this, a preliminary report for consideration of the Minister will be presented in the near future.
Read more: Trinidad and Tobago wants to create a hydrogen economy
Read more: Io Consulting to carry out hydrogen study for Trinidad plant
The Prime Minister referenced the Point Lisas green hydrogen project with KGL subsidiary NewGen Energy Limited unveiling plans for a green hydrogen production facility in the Industrial Estate last year – which would be a first-of-its-kind for the islands.
By introducing a new source of green hydrogen to the petrochemical sector of Point Lisas at a competitive cost, the NewGen hydrogen project will play a key role in the drive towards decarbonising Trinidad and Tobago's energy industry.
The hydrogen will be generated on an industrial scale from carbon-neutral and renewable sources of electricity using an electrolysis process.
In addition to this, the Prime Minister has also revealed that the MEEI and the Ministry of Planning and Development has provided support to the National Energy Corporation in securing funding from the Inter-American Development Bank (IDB) for feasibility studies relating to hydrogen.
This cooperation will help to facilitate feasibility studies in 2021 that contribute to understanding the economical parameters of producing green hydrogen locally.
The results from this will add to the work of National Energy and the MEEI to provide insight into hydrogen growth for the country.
Inside Trinidad and Tobago's green hydrogen economy plans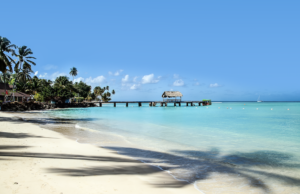 The southern Caribbean islands of Trinidad and Tobago are an exercise in beautiful contradiction. In Trinidad, pristine mangrove swamps and rainforested hills sit side-by-side with smoke-belching oil refineries and unpretty industrial estates. Tobago has everything you'd expect from a Caribbean island, with palm trees and white sand aplenty1 .
A major industrial centre in Trinidad and Tobago is the Point Lisas Industrial Estate, which is home to the majority of the country's heavy gas industries that include numerous ammonia plans and methanol plants; a natural gas-to-liquids processing facility; and two power stations. Most of this industry is dependent on natural gas which is produced offshore, mainly the east coast of Trinidad, and transported by pipeline across the island.
Want to continue reading? Click here.