A new green hydrogen and renewable energy joint venture has been revealed today (Nov 17) between ADNOC and Abu Dhabi National Energy Company (TAQA).
By combining both of the Abu Dhabi energy giants knowledge and portfolios, a clean energy powerhouse could well be established with a total renewable energy generating capacity of at least 30GW by 2030.
This would cement the region's position at the forefront of green hydrogen production.
Read more: Abu Dhabi to become a hub of hydrogen and ammonia exportation with new agreement
Read more: UAE's ADNOC to explore hydrogen and blue ammonia with Japanese groups
The new strategic partnership will focus on both domestic and international renewable energy and waste-to-energy projects as well as the production, processing and storage of green hydrogen and ancillary activities.
In doing so, the partnership will leverage ADNOC's energy and hydrogen capabilities and TAQA's renewable expertise to optimise hydrogen production.
Dr. Sultan Ahmed Al Jaber, UAE Minister of Industry and Advanced Technology and CEO and Managing Director of ADNOC, said, "Today's strategic partnership between two Abu Dhabi energy giants future-proofs ADNOC's business model, creating compelling business and commercial opportunities, as we fully embrace the energy transition.
"This platform will enable ADNOC to capitalise on the many renewable energy and hydrogen opportunities, both locally and globally. Building on ADNOC's highly successful partnership and growth model, we invite other partners to join this promising new venture on its exciting journey.
"As the UAE looks ahead to hosting COP 28 in 2023, our nation pledges an inclusive energy ecosystem, enabling sustainable future economic growth, for the benefit of Abu Dhabi and the UAE."
Mohamed Hassan Alsuwaidi, Chairman of TAQA, said, "TAQA has set out to become a champion for low carbon power and water and is already a world leader in solar power.
"This partnership between TAQA and ADNOC will be a powerful catalyst to unlock significant potential for accelerating the green hydrogen market and rapidly expanding renewable energy.
"TAQA is supporting Abu Dhabi's aim to be a green hydrogen hub using our expertise in low-cost solar PV and desalinated water: two critical elements for green hydrogen."
Mubadala driving Abu Dhabi's green hydrogen economy plans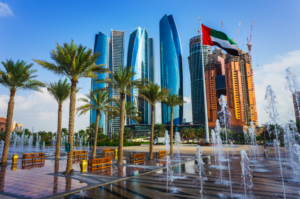 You may have read the flurry of hydrogen- related announcements that came out of Abu Dhabi in January during the UAE (United Arab Emirates) capital's Sustainability Week (Abu Dhabi Sustainability Week, or ADSW for short) and noticed one name particularly at the centre of these – Mubadala.
The Abu Dhabi sovereign investor is committed to ensuring energy security by investing diversely across the energy landscape, with the goal of advancing the ongoing energy transition. With a $232.2bn portfolio of assets in the UAE and internationally, Mubadala Investment Company firmly believes the world needs multiple sources of energy, including new emerging energy sources like hydrogen.
Before we look more at Mubadala and its hydrogen ambitions, let's recap what happened in January. First, we had the launch of the Abu Dhabi Hydrogen Alliance, formed by ADNOC, ADQ and Mubadala, which aims to establish Abu Dhabi as a trusted leader of low-carbon green and blue hydrogen in emerging international markets.
Want to read more? Click here.