The US Department of Energy's (DOE) Energy Earthshot Initiative has today (June 7) launched with an ambitious target to slash the cost of clean hydrogen by 80% to $1 per kilogram in just one decade.
Launched today by Secretary of Energy Jennifer Granholm, the initiative's goal will be carried out under its "Hydrogen Shot" which will help the US tackle the climate crisis and reach the Biden-Harris Administration's goal of net-zero carbon emissions by 2050.
Read more: Hydrogen amongst Joe Biden's clean energy plans for the US
Further to that, the Hydrogen Shot establishes a framework and foundation for clean hydrogen deployment in the American Jobs Plan, which includes support for demonstration projects.
On the launch, Secretary Granholm, said, "The Energy Earthshots are an all-hands-on-deck call for innovation, collaboration and acceleration of our clean energy economy by tackling the toughest remaining barriers to quickly deploy emerging clean energy technologies at scale.
"First up: Hydrogen Shot, which sets an ambitious yet achievable cost target to accelerate innovations and spur demand of clean hydrogen. Clean hydrogen is a game changer. It will help decarbonise high-polluting heavy-duty and industrial sectors, while delivering good-paying clean energy jobs and realising a net-zero economy by 2050."
Read more: Hydrogen industry welcomes Biden's pledge to cut US emissions by at least 50%
By cutting the cost of hydrogen, the DOE hopes it can unlock a five-fold increase in demand by increasing clean hydrogen production from pathways such as renewables, nuclear, and thermal conversion – something which it believes will greatly benefit the US for a number of reasons.
As part of the launch DOE's Hydrogen Program issued a Request for Information on viable hydrogen demonstrations, including specific locations, that can help lower the cost of hydrogen, reduce carbon emissions and local air pollution, create good-paying jobs, and provide benefits to disadvantaged communities.
Hydrogen Forward has said it is supportive of the administration's programme, "Hydrogen is a key technology in the energy transition to address climate change and create jobs. Policy support, including programs like the Department of Energy's 'Hydrogen Shot,' is what we need to ensure hydrogen can decarbonise the difficult-to-abate sectors like transportation and industry as quickly as possible," Traci Kraus (Cummins) and Neil Beup (Linde) of Hydrogen Forward said.
"Hydrogen Forward is supportive of federal, state, and local efforts that enable hydrogen to deliver on its climate and economic potential."
Today's announcement follows Secretary Granholm's commitment, made during President Biden's Leaders Summit on Climate, to propel next-generation technologies in key clean energy sectors.
Hydrogen amongst Joe Biden's clean energy plans for the US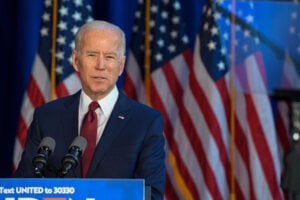 US President Joe Biden's Build Back Better plan is a national effort aimed at creating the jobs needed to build a modern, sustainable infrastructure now and deliver an equitable clean energy future.
It's expected Biden will make a $2 trillion accelerated investment, with a plan to deploy those resources over his first term, some of which will go towards innovation and driving dramatic cost reductions in critical clean energy technologies including renewable hydrogen. 
"It was heartening to see hydrogen and fuel cells mentioned in Biden's energy plans and we will work hard to make sure they come to fruition," Morry Markowitz, President of the Fuel Cell and Hydrogen Energy Association (FCHEA) told H2 View in a recent interview, as he discussed what Biden's presidency could mean for the industry.
If you missed the interview with Morry Markowitz, read it again here.