Hydrogen produced at Peel L&P's plastic waste to hydrogen facility at Protos, Cheshire will be delivered to Element 2's proposed network of hydrogen refuelling stations in the UK.
The duo today (June 30) inked an agreement for the effort which will support Elements 2's ambitious plans to have 800 hydrogen pumps in the UK by 2027, and 2,000 by 2030.
Under the agreement, Peel will also develop a new hydrogen refuelling station at its Protos site to support heavy-goods vehicles, buses or cars.
Peel hopes to supply up to one tonnes of hydrogen per day at its station,
Commenting on its plans, Richard Barker, Development Director at Peel NRE, part of Peel L&P, said, "Hydrogen is set to play an important role in our journey to net zero, particularly in hard to decarbonise sectors like transport.
"Protos is the first of many planned plastic to hydrogen facilities in the UK and co-locating refuelling stations will help to kick start the infrastructure needed to support the rollout of hydrogen vehicles."
The plastic to hydrogen facility at Protos is believed to be the first in the UK to use pioneering technology, developed by Powerhouse Energy Group, with Peel NRE planning to roll out the technology across the UK.
Read more: Progress made on plastic to hydrogen sites
By utilising gasification technology, the site is able to take non-recyclable plastics, destined for landfill, incineration or export overseas, and uses them to create a local source of sustainable hydrogen.
Welcoming Peel's support in its hydrogen station rollout plans, Brendan Bilton, Chief Technology Officer at Element 2 said, "Our agreement with Peel NRE to build a hydrogen refuelling station at Protos is a big step forward as we establish the UK's hydrogen infrastructure.
"We are a pure play retailer of hydrogen, keen to employ waste to hydrogen and the circular economy as we build hundreds of refuelling stations over the next ten years. We will deploy 800 pumps by 2027 and 2,000 pumps by 2030, helping the UK reach its target of net zero emissions my 2050."
Did you miss this exclusive interview with Tim Harper, CEO of Element 2?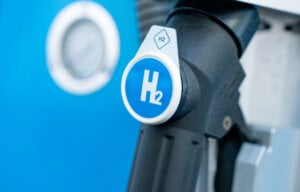 When asked about Element 2's ambitious goal to deploy 800 hydrogen pumps in the UK by 2027, the company's CEO, Tim Harper, told H2 View he wants to "just get on and do it to break the whole chicken and the egg situation."
Clearly passionate about the UK's hydrogen economy, and the country's journey to net zero, Harper explained that the company's ambitions all started over a pot of earl grey with his Co-Founder, Brendan Bilton, at the Coniston Hotel in the Yorkshire Dales.
"I have been looking into it [hydrogen] for 20 years, and my Co-Founder Brendan Bilton, he has been involved in hydrogen and fuel cell companies. A couple of years ago we were talking about doing something together in hydrogen, but the question always stood: What shall we do?
"With that in mind, we decided to have a meeting at the Coniston Hotel over a pot of earl grey and figure out exactly what we were going to do. I always like to map things out, and once we started mapping out our plans, we realised that there was a big link missing to connect hydrogen supply and demand in the UK – there was nobody putting the refuelling infrastructure in place."
Shortly after the business partners' meeting, the infrastructure idea begun to snowball, and the company now wants to deploy more than 800 hydrogen pumps in the country within the next six years to get the hydrogen mobility ball rolling – a goal that many find extraordinary.
Continue reading here.