Researchers at West Virginia University are using solid oxide electrolysis cells to generate green, high purity hydrogen to help "greenify" the production process.
Having been recognised by the US Department of Energy (DOE) for its importance, the effort has been awarded $1.2m in funding from the department to overcome barriers associated with the production of green hydrogen.
On the work, Wenyuan Li, Assistant Professor of Chemical and Biomedical Engineering and Principal Investigator of the Project, said, "We have a really good source of renewables and a huge market for hydrogen, but the barrier is that we cannot connect them.
"Our technology is like a bridge in the middle. You take electricity from renewables and transform them into hydrogen. Green hydrogen means that along the whole process of producing hydrogen, there is no carbon emission or carbon footprint."
It is believed that if the researchers can overcome the challenge of the materials' susceptibility to chromium poisoning, solid oxide electrolysis cells will finally reach commercialisation – a big step forward for the global hydrogen economy and green hydrogen production.
To overcome this, West Virginia University is working alongside Worcester Polytechnic Institute to provide the market with chromium-resistant electrode materials to be used for electrolysis cell technology.
Funding awarded from the US DOE is part of its $16.5m effort to help recalibrate the country's fossil fuel and power infrastructure for decarbonised energy and commodity production.
US DOE, General Motors, Microsoft and Plug Power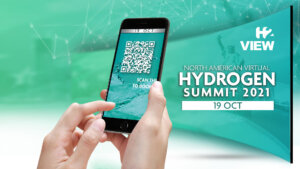 What does the US Department of Energy (DOE), General Motors, Microsoft and Plug Power have in common? They're all speaking at H2 View's North American Virtual Hydrogen Event in October. Will you be joining us on October 19?
North America is in a prime position to lead efforts in decarbonisation, but it still has great distances to travel. The region has been giving chase in a race to green hydrogen dominated by Europe and Asia-Pacific. If policymakers and industry can work together and take the right steps to realise a hydrogen vision, the region is perfectly placed to expand its global energy leadership at scale and speed.
What lessons can be learned from Europe's policymakers? What are the challenges to be overcome? What are the strengths and opportunities? How can North America go from giving chase to taking a lead in hydrogen? These are all questions our virtual event will address across H2 View's four pillars of Mobility, Power, Policy and Technology.
Further information on the event, agenda and confirmed speakers can be found here.
To book your virtual delegate pass, click here.