Yara Clean Ammonia, North Sea Container Line and Yara International are joining forces to develop the world's first container ship using pure ammonia as fuel.
Yara Eyde will operate between Norway and Germany in what is billed as the first emission-free sea route to the continent.
Svein Tore Holsether, President and CEO of Yara International, said, "The world is in the midst of a climate crisis and all good forces must now come together to quickly cut emissions. We are pleased to be able to collaborate across sectors and show that decisive emission cuts are possible. The green journey started with Yara Birkeland, the world's first autonomous electric container ship, and now we are continuing it with Yara Eyde, which will be the world's first container ship running on pure ammonia."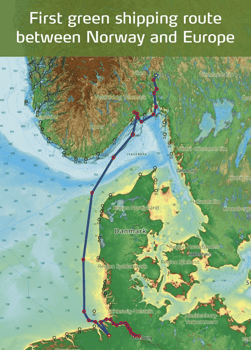 Yara Eyde is optimised for the trade corridor between Norway and Europe and will operate between Oslo, Brevik, Hamburg and Bremerhaven. From 2026, Norwegian companies can export their products on a green keel, and trade goods can be imported emission-free into Norway.
... to continue reading you must be subscribed