H2 View is today celebrating our one-year anniversary. In our first year alone, we have published more than 1,600 articles, and in celebration of our birthday, we've rounded up 10 of our biggest stories from our first year.
Worcester Bosch officially reveals new hydrogen boiler
In our most read story, H2 View unveiled the first pictures of Worcester Bosch's new and unique hydrogen-powered boiler prototype in February.
H2 View is celebrating our one-year anniversary
The prototype has been designed to also run effectively on natural gas which means in the future if hydrogen gas becomes a reality, those who have a "hydrogen-ready" boiler can simply convert to hydrogen without the need for an entirely new heating system.
"World's largest" renewable hydrogen factory starts fit out

UK energy storage and clean fuel company ITM Power announced in January that the fit out of its new 1GW factory in Sheffield was imminent.
The new factory will enable ITM Power, through standardisation, modularisation and the employment of world class practices, to reach a capacity of 1GW within three years.
Exclusive: Worcester Bosch wants only hydrogen-ready boilers on the market by 2025
At the end of February, H2 View travelled to Worcester Bosch's headquarters in Worcester to meet with Martyn Bridges, Director of Technical Communication & Product Management, and see the "hydrogen-ready" boiler for ourselves.
"We need to convince [the government] that this works, it's feasible, it's a very sensible thing to do and it's financially the cheapest of the very few options on the table for decarbonising the country," Bridges told H2 View.
DHL: 5 reasons why hydrogen is the future

From rendering freight transportation carbon-free to the convenient use of portable hydrogen 'capsules', global shipping company DHL listed five reasons why hydrogen is a secure, clean and affordable alternative.
Trudeau, build that hydrogen pipeline!
"What do we want? Hydrogen Pipelines! When do we want them? Now!!" wrote Mark Kirby, President and CEO of the Canadian Hydrogen and Fuel Cell Association (CHFCA) as he called on Canadian Prime Minister Justin Trudeau to build that hydrogen pipline.
New report from the Hydrogen Council reveals the cost hydrogen will fall sharply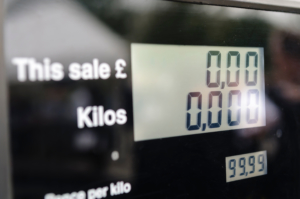 The Hydrogen Council published its new report Path to Hydrogen Competitiveness: A Cost Perspective in January, revealing the cost of hydrogen solutions will fall sharply within the next decade.
Proton Technologies: Hydrogen for $0.10 per kilogram
In an exclusive interview, Proton Technologies told H2 View $0.10 per kg is what the Canadian company was trying to achieve with its new process, which has potential to produce the world's lowest-cost hydrogen.
Bosch opens hydrogen-compatible fuel cell pilot plant
Earlier in July, Bosch opened a fuel cell pilot plant in Wernau, Germany based on Solid Oxide Fuel Cell (SOFC) technology.
The system consists of three fuel cell devices for stationary applications that supplement the existing power supply of the plant in Wernau in a way that saves CO2 and drives further development of these decentralised energy systems.
First look at Hyundai Hydrogen Mobility truck
In September 2019, H2 View brought you the first look at the fuel cell electric truck set to revolutionise the green hydrogen mobility ecosystem in Switzerland.
Hyundai Hydrogen Mobility, the joint venture between Hyundai Motor Company and Swiss hydrogen company H2 Energy, will bring 1,600 of these heavy-duty Hyundai H2 Xcient fuel cell trucks to the market over the next five years.
Nikola begins trading on Nasdaq under NKLA
Nikola Corporation began trading on US stock market Nasdaq under the new ticker symbol 'NKLA' in June.
At the time, Nikola said transaction proceeds were expected to accelerate vehicle production and allow Nikola to break ground on its state-of-the-art manufacturing facility in Coolidge, Arizona, and continue its hydrogen station infrastructure roll out.