Baker Hughes has launched Druck hydrogen-rated pressure sensors which are designed to offer longer term stability and withstand harsh environments.
The sensors can be used in a variety of applications including gas turbines, hydrogen production electrolysis and hydrogen filling stations.
Long term exposure to hydrogen gas degrades the performance of a pressure sensor, specifically through hydrogen permeation and embrittlement of the isolation diaphragm, meaning the construction of a hydrogen sensor is key to maintaining accuracy and stability.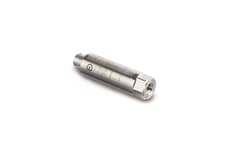 The Druck hydrogen pressure sensors apply high-performance barrier coating technology to protect the sensor element from the harsh effects of hydrogen, providing customers with a minimum lifespan of five years across a wide range of pressures.
... to continue reading you must be subscribed