Brazilian airliner Embraer has presented the Energia family, four concept aircraft that run on innovative renewable energy propulsion technologies with hydrogen included.
Revealed today (Nov 8), the company has partnered with an international consortium of engineering universities, aeronautical research institutes, and small and medium-sized enterprises to understand which technologies are best suited to sustainable aviation.
Read more: Aviation H2 established to provide hydrogen solutions for the aviation market
Read more: 18 tonnes of liquid hydrogen could get an A320 plane from Stuttgart to Melbourne, f-cell hears 
Two of the four aircraft feature hydrogen technologies with both amply named Energia H2 Fuel Cell (E19-H2FC) and Energia H2 Gas Turbine (E50-H2GT).
The Energia H2 Fuel Cell (E19-H2FC) is a 19-seater aircraft that will feature a hydrogen electric propulsion engine with this expected to be ready by 2035.
As well as this, the Energia H2 Gas Turbine (E50-H2GT) will utilise a hydrogen or sustainable aviation fuel propulsion system to power a plane with 35-50 seats.
This will be ready by 2040.
Luis Carlos Affonso, Senior Vice-President of Engineering at Embraer's Technology and Corporate Strategy, said, "We see our role as a developer of novel technologies to help the industry achieve its sustainability targets.
"There's no easy or single solution in getting to net zero. New technologies and their supporting infrastructure will come online over time. We're working right now to refine the first airplane concepts, the ones that can start reducing emissions sooner rather than later.
"Small aircraft are ideal on which to test and prove new propulsion technologies so that they can be scaled up to larger aircraft. That's why our Energia family is such an important platform."
A seismic shift for aviation: Airbus sets its sights on hydrogen powering the future of aircraft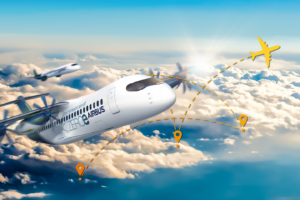 Representing approximately 2.5% of global greenhouse gas emissions, the aviation industry is in need of a disruptive change to its 'business as usual' if it is to meet its net zero objectives by 2050. One energy carrier emerging as a game-changing contender in the transformation of the sector is hydrogen, and Airbus is ready to be the catalyst for change.
With a 50-year track record of innovation, technological firsts and industry milestones, the designer and manufacturer of aerospace products, services and solutions to a customer base worldwide has indeed been 'making it fly' since the 1960s. In 1972, Airbus' first aircraft, and the world's first wide-body twin-aisle commercial aircraft, the A300B, performed its maiden flight, which at the time signalled the first steps towards changing the face of modern aviation. And Airbus is once again set to transform flight.
Want to continue reading? Click here.