With heavy-duty hydrogen fuel cell vehicles growing more popular within the automotive industry, Johnson Matthey has unveiled today (Nov 22) that, with REFIRE, the two companies have reached 170 vehicles on China's roads.
With the current total at 170 heavy duty, hydrogen-powered vehicles, this number represents the last six months with a further 280 vehicles scheduled for the coming months.
Read more: Johnson Matthey, Hystar partner to develop next generation electrolysers for hydrogen production
Read more: Johnson Matthey, Hoeller Electrolyzer partner to develop more efficient hydrogen production technology
REFIRE has already deployed systems powering over 2,700 commercial fuel cell electric vehicles (FCEVs) across China during the past six years, which represents around 40% of the total market.
The real-world experience gained by the deployment of vehicles from light-duty and smaller trucks up to 49 tonne heavy-duty freightliners, is proving the value of FCEVs.
With Europe now poised to accelerate its own transition to hydrogen energy, attention is increasingly turning to the experience gained in China.
Johnson Matthey and REFIRE will continue this collaboration as the companies continue to capitalise on the Chinese fuel cell market which, as Johnson Matthey states, leads the world in the number of commercial FCEVs on the roads.
Audrey Ma, Vice-President of Marketing & International Business at REFIRE, said, "With the largest number of commercial vehicles in the world, China has become a leading and solid proof point for this technology.
"REFIRE's vision is to accelerate mass adoption of zero-emission fuel cell mobility and power globally by offering products and services that create sustainable value for our users, so the world can breathe easy.
"JM has been a long-term believer in fuel cell technology, and we're delighted to partner with them. They enabled the 2020 launch of our highly anticipated Prisma series of fuel cell systems, designed and built for the rigorous driving conditions of buses and trucks."
Jo Godden, Managing Director at Johnson Matthey, said, "With their long range, low weight, and fast refuelling, it is becoming evident that FCEVs are ideally suited to decarbonising logistics and mass transit transportation.
"To deliver these applications at scale, we have focused our efforts on optimising the critical fuel cell components to improve power output and efficiency in the stack. This is where the lab meets the road.
"Our tight working relationship with REFIRE has enabled us to accelerate development and ensure that the scientific advances we are making translate into tested end user benefits.
"The recent opening of our dedicated MEA manufacturing facility in Shanghai, demonstrates our commitment to supporting local supply chains in China and for growing the market for FCEVs globally.
"We look forward to the continued collaboration with REFIRE and thereby delivering on our vision for a cleaner, healthier world."
At the heart of the hydrogen economy: Johnson Matthey shares how its science and technology are driving the energy transition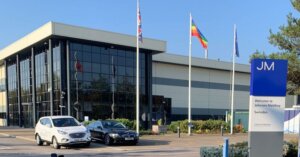 Johnson Matthey has been on a 200+ year journey from being a pioneer in the application of precious metals to a global leader in science for a cleaner, healthier world. With a long history in the refining of platinum group metals dating back to 1817, today Johnson Matthey's science and research touches some of the most pressing challenges faced by our planet and its people.
With the need to address climate change and reach net zero, it is clear emissions must be cut drastically from all areas of life, including sectors that are difficult to abate, such as heavy industry, heavy-duty vehicles, buses, trains and aviation. And with increasing recognition that hydrogen will play an important role in transforming these sectors, comes the challenge of deploying the technology at scale to support the shift to a hydrogen economy.
Want to continue reading? Click here.