The Ruhr region of Germany could become a central hub for hydrogen with eight companies banding together to make this dream a reality.
E.ON, Evonik, RWE, thyssenkrupp and Vonovia have joined forces with the Max Planck Institute for Chemical Energy Conversion, the RWI – Leibniz Institute for Economic Research and the Alfried Krupp von Bohlen und Halbach-Foundation to accelerate the green transformation on the Rhine and Ruhr.
Read more: 12 Days of Content: H2 MOBILITY Deutschland
Read more: Germany opens its 92nd hydrogen refuelling station
The joint project is developing a cross-sectoral development plan to boost hydrogen infrastructure and production capacity to accelerate a green transformation.
It is believed that this will set the standards for a hydrogen economy in industrial conurbations.
Despite this, the transformation of the Ruhr will require hydrogen to be utilised in industrial and residential applications.
To this end, the joint project will aim to collect vast amounts of data that will be used to create a roadmap that can be used to optimally align coordinated infrastructure investments with private sector investment cycles.
The roadmap is a prerequisite for creating planning security for all parties involved and for making the region an attractive investment location.
With unique connections across all sectors, synergies in generation, storage, distribution and consumption can be leveraged in the Ruhr region making the area well suited for developing a comprehensive hydrogen infrastructure.
Martina Merz, Chair of the Executive Board of thyssenkrupp AG, said, "The Ruhr region occupies a prominent position in the green transformation.
"The unique linking of different sectors and industries makes it possible to think and shape all facets of the energy transformation along the entire hydrogen value chain.
"It is important to understand carbon free produced hydrogen as a commodity and to think the transformation through from the end.
"That is the only way we will be able to develop a suitable infrastructure quickly enough."
Markus Krebber, CEO of RWE AG, said, "There is no alternative to green power and hydrogen for the decarbonisation of many industries.
"We in the Ruhr region are best placed to become pioneers: Strong companies, well trained and motivated employees and now also a strong partnership.
"RWE is contributing its entire expertise in this area. If we work together to keep the pace up, we can make the region a winner."
Emerging hydrogen value chains in Germany: An interview with LBST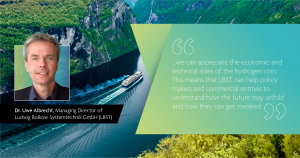 In German language, hydrogen is called 'Wasserstoff'. As a literal translation to English, we could say 'material of water', a term that's particularly timely given the large number of water electrolysis projects underway in Germany at present.
Against this backdrop, H2 View met up with Dr. Uwe Albrecht, Managing Director of Ludwig Bölkow Systemtechnik GmbH (LBST), to discuss how the hydrogen economy is developing in Germany and how his organisation is helping to shape the future.
Private and public sector organisations rely on us to advise on a range of topics, including aspects of policy and strategy related to the emerging hydrogen economy. The questions from private companies are often about how to build business models that fit in the emerging hydrogen value chains.
Want to continue reading? Click here.